Charlie Kraslavsky, the original actor who played Chris Redfield, confides in Eklecty-City in an exclusive interview full of revelations. He talks about his role in Resident Evil, the cult game that changed his life. He talks about the mystery surrounding his identity and the end of his anonymity in 2017.
Charlie Kraslavsky made video game history as Chris Redfield, the hero of the first Resident Evil, released in 1996. For years, his identity remained a mystery, not only to *fans, but also to himself, as he was unaware that the game was called Resident Evil outside Japan. It wasn't until 2017 that he discovered his fame among fans, who found him on social networks.
In this exclusive interview, he tells us about his journey, from his childhood in Japan to his role in the game that revolutionized the survival horror genre. He shares his memories of the shoot, his relationship with the other actors, and his current and future projects. He shares his passion and enthusiasm for Resident Evil, and reveals some previously unpublished anecdotes. He also tells us about his attempts to contact Linda and Inezh, who played Rebecca Chambers and Jill Valentine, and who have remained anonymous for over 20 years.
He recently reprised his role as Chris Redfield for several fan-made projects, and talks to us about the fan movie The Keeper's Diary, A Biohazard Story, based on the story and character of the Keeper from the first opus.
A not-to-be-missed interview for all franchise fans!
Read the interview below, or follow the link to read Charlie Kraslavsky's interview in French.
Hi Charlie, thanks for agreeing to this interview. Before we start, can you introduce yourself?
Charlie : I'm Charlie Kraslavsky, you might remember me as the actor who portrayed Chris Redfield in the live action cutscenes from the original game titled: 'Resident Evil 1 Biohazard' It was released by Capcom in 1996.
You were born in Tokyo, Japan. What can you tell us about your early years in Japan? What memories do you have?
Charlie : I am the youngest of three children, so from the moment I was born my siblings and I spoke both English and Japanese around the house and at school, so I speak Japanese fluently. My father is a successful businessman, and entrepreneur, so I had a very privileged upbringing there.
I have fond memories of many family trips to the countryside in Karuizawa, where we had a vacation home, Shimoda where we would go for beach vacations, and Yamagata Zao and Naeba, where we would go skiing. In Tokyo, we were members of the Tokyo Lawn Tennis Club, where I first developed a strong passion for the sport. We were also members at The Tokyo American Club, which is an exclusive country club.
It was my second home growing up there. I used to love swimming there in the hot Japanese summers, or hanging out at the bowling alley, playing pool and devouring cheeseburgers and milkshakes. They also had a movie theater, and showed popular American movies several nights a week. They even had a teen room, where we could hang out and play our own music. Japan was a fantastic place to grow up. It is very safe, and the people are very cultured, educated, and friendly.
You attended international schools in Japan, such as the Nishimachi International School and the American School in Japan, where you learned English and Japanese. What are your memories of these schools?
Charlie : I was not very interested in learning at a young age, but I loved the social aspect of going to school, things like lunchtime and recess excited me much more than academics. Over the years many of my teachers expressed to me how gifted and smart I am, and how disappointing it was to them that I put in so little effort in my studies. I loved playing sports on teams, like basketball, American football, tennis, and I took Judo classes when I was young. I also loved being involved in school plays.
I have a fond memory when I was in the third grade at Nishimachi International School, and the Principal's daughter and I came up with a skit to perform. I was supposed to be a Mad Russian Scientist. I showed up to school that morning in costume. I wore a trench coat with a pillow under it to make me look fatter, and some sunglasses, and I dusted my hair with flour to make it look white and styled it all crazy looking. My partner in the scene had no idea I would show up in costume, so she was just in her normal clothes. I definitely stole the show that day.
When I was 12 we moved to Oahu for just one year, and I attended Kahala Elementary School, which is a public school. It was not long after Star Wars came out, and the movie theater in Waikiki played it every day for about a year. My brother and I must have watched it 30 or 40 times.
I caught up with a lot of American pop culture in that year, consuming hours and hours of television, watching classic shows like Star Trek, Starsky & Hutch, The Dukes of Hazzard, and lots of cartoons, like Looney Toons, and The Flintstones.
My father's business venture in Hawaii never really took off that year, and he decided to move us back to Tokyo. I didn't want to leave Hawaii, and begged my parents to let me stay, but ultimately we moved back to Tokyo, and that's when I transferred to ASIJ (The American School in Japan). I really enjoyed those years, and I still have many friends I have stayed in touch with. I was involved in many after school activities like sports, and the junior and high school plays. I have a terrible singing voice, and I don't play any instruments, so I was never involved in the musicals, just the plays.
How did you develop your interest in theater and film?
Charlie : My interest in theater and film was mostly inspired by older American movies that I saw late at night on Japanese television, and newer ones we would go see as a family in theaters. This was mainly in the 70's and 80's. I fell in love with movies like The Great Escape, The Dirty Dozen, The Guns of Navarone, The Magnificent Seven, Enter The Dragon, Butch Cassidy And The Sundance Kid, Raiders Of The Lost Ark, and all the James Bond films, but most of all I loved Clint Eastwood's Dirty Harry films, and all of his Westerns, especially The Dollars Trilogy he did with Sergio Leone.
I also love Sci Fi movies a lot, like The Planet Of The Apes, Alien, 2001 A Space Odyssey, A Clockwork Orange, and of course, Star Wars. My all time favorite movie of all time is the original Blade Runner.
I distinctly remember one day browsing a gift store in Azabu Juban, a fancy shopping district near NIS (Nishimachi International School), when I was about ten or eleven years old. There were black and white postcards of all my favorite Hollywood actors, like Steven McQueen, Paul Newman, Robert Redford, Harrison Ford, Charlton Heston, and Sean Connery.
It might sound narcissistic, but I somehow had this overwhelming feeling that I belonged in this group of elite actors, and someday would be a star myself. I guess I was off by one letter, as I am not a star, but I am a STARS Team member. Go Alpha Team!
In 1996, you played the role of Chris Redfield in the cinematics of the video game Resident Evil. Let's take a closer look at the period that brought us together today(laughs). What was your reaction when you found out you were going to play this character? How did the casting go? Who approached you for the role?
Charlie: At the time I was chosen to play Chris Redfield, I wore two hats. I was a full time actor, print model, and voice over artist, and I also worked as a talent agent for the office that represented me. It is called I.M.O.(Inagawa Motoko Office), and it still exists today in Nishi Azabu, Tokyo.
Capcom allowed I.M.O. to do all the casting for the live action actors, and I believe also the voice actors, though I am not 100% certain about the voice actors. We submitted photos of the actors, and they also asked for our advice on who had the best acting chops. They were quite secretive about the project, and initially all we were told was that it is for a video game, and not much more.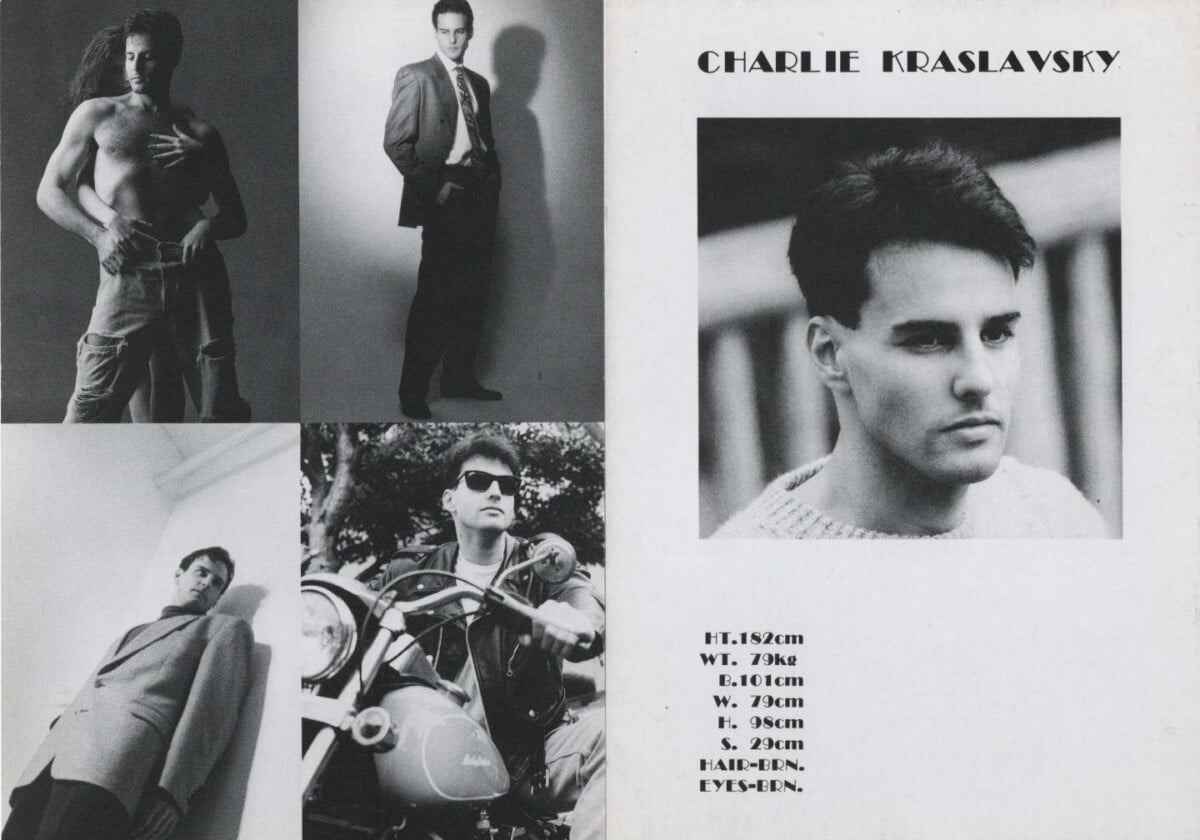 Editor's note: Charlie Kraslavsky's old card. It was sent to Capcom for the cast selection.
I took all the actors with me to the wardrobe fitting. I don't recall the exact location, but it was somewhere in central Tokyo. We were all seated at small desks, and there was a sketch of each character on the desks. That was the first time I saw the drawings of Chris and the other characters. I remember feeling very impressed, and excited. This was by far the coolest character I was ever asked to portray.
One by one we tried on the costumes, and the wardrobe stylist took measurements. I remember when they strapped the sheath for the knife to my chest, it was all custom made, and they marked it so they could alter it to fit me exactly. Shinji Mikami was there, and he talked a little bit about the game, and our characters, but did not reveal too much. He and the wardrobe stylist had a heated discussion about what color my hair should be, and whether or not I should have stubble or be clean shaven.
Originally they wanted to dye my hair blonde, but it would have been a long process requiring several steps, because my hair is naturally very dark brown, almost black. They decided to just use peroxide, which made my hair look orange. They could not decide about the stubble, so they asked me to grow my stubble for a few days, and then they met me at a hair salon and treated it with peroxide.
Once they saw how dark my stubble looked compared to the orange hair, they decided it looked odd, so they asked me to come clean shaven for the shoot.
How did the shooting of this sequence go? What technical and human resources did you use?
Charlie: There was the cast, a small film crew, make-up, wardrobe, props, and transportation. The first night of the shoot was the exterior shots at a location near the Tama River.
It was a hot and humid August night, and the mosquitos were in great numbers. We also had a few hours in a studio for the shots in the credits, and another day where we drove to the outskirts of Tokyo, I'm not sure exactly where, but I remember it being a very long drive.
We used I could not tell you very much about what sort of camera equipment or lighting equipment they used, but there were prosthetics, like the severed hand of a Bravo Team Member that Joseph discovers, and Greg Smith said there were live dobermans there, but my recollection of that is a little fuzzy. They also had an animatronic head of a Cerberus, and used a lot of fake blood and SFX make up on Joseph.
We were not told very much about the shoot in advance, they wanted to tell us as little as possible, and there was a general feeling of everything being on a need to know basis.
What are the most memorable anecdotes you can tell us?
Charlie: I remember feeling a little awkward at the shoot, because they told me there is a slight hint of a love interest between Chris and Jill. I was about 26 at the time, and Inezh, who played Jill, was only sixteen, and her parents were there at the shoot. I kind of avoided her, because I did not want her parents to get the wrong idea.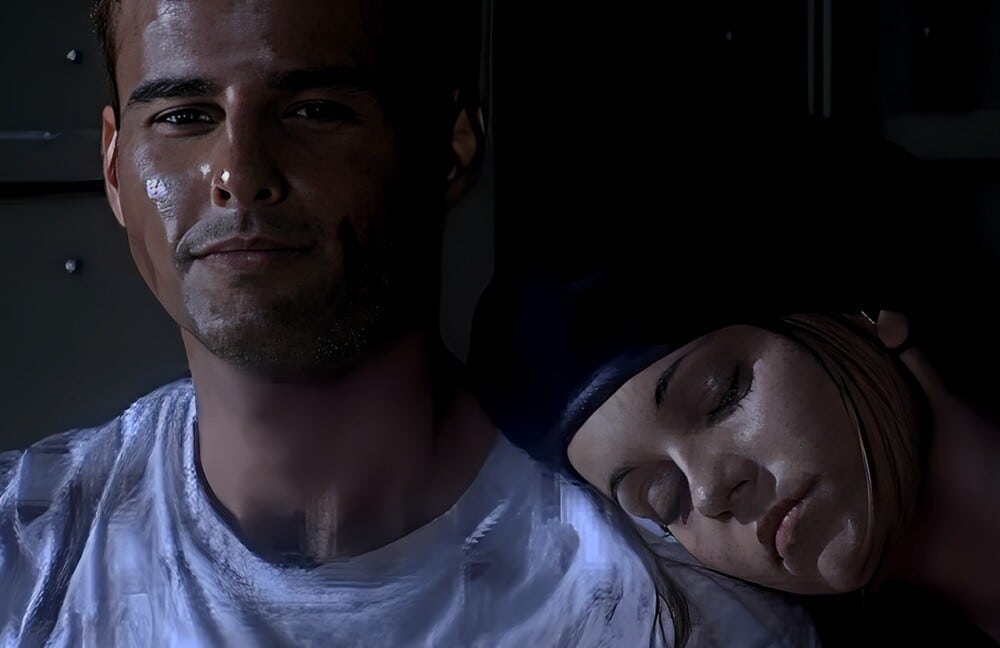 Editor's note: Charlie Kraslavsky (Chris Redfield) and Inezh (Jill Valentine) in a cinematic at the end of Resident Evil (1996).
What was your relationship with the other actors who took part in the introduction, such as Inezh, Greg Smith or Eric Pirius? Did you keep in touch with them after the shoot?
Charlie: Since I was a talent manager as well, I had regular contact with Eric Pirius. He worked freelance and was registered at several agencies, and he got booked a lot. Sometimes I was representing him, and being his manager and interpreter at auditions and film locations. Other times I would be competing against him at auditions. We did a modeling job together for a baseball uniform catalog, and we were in a TV commercial together for chewing gum.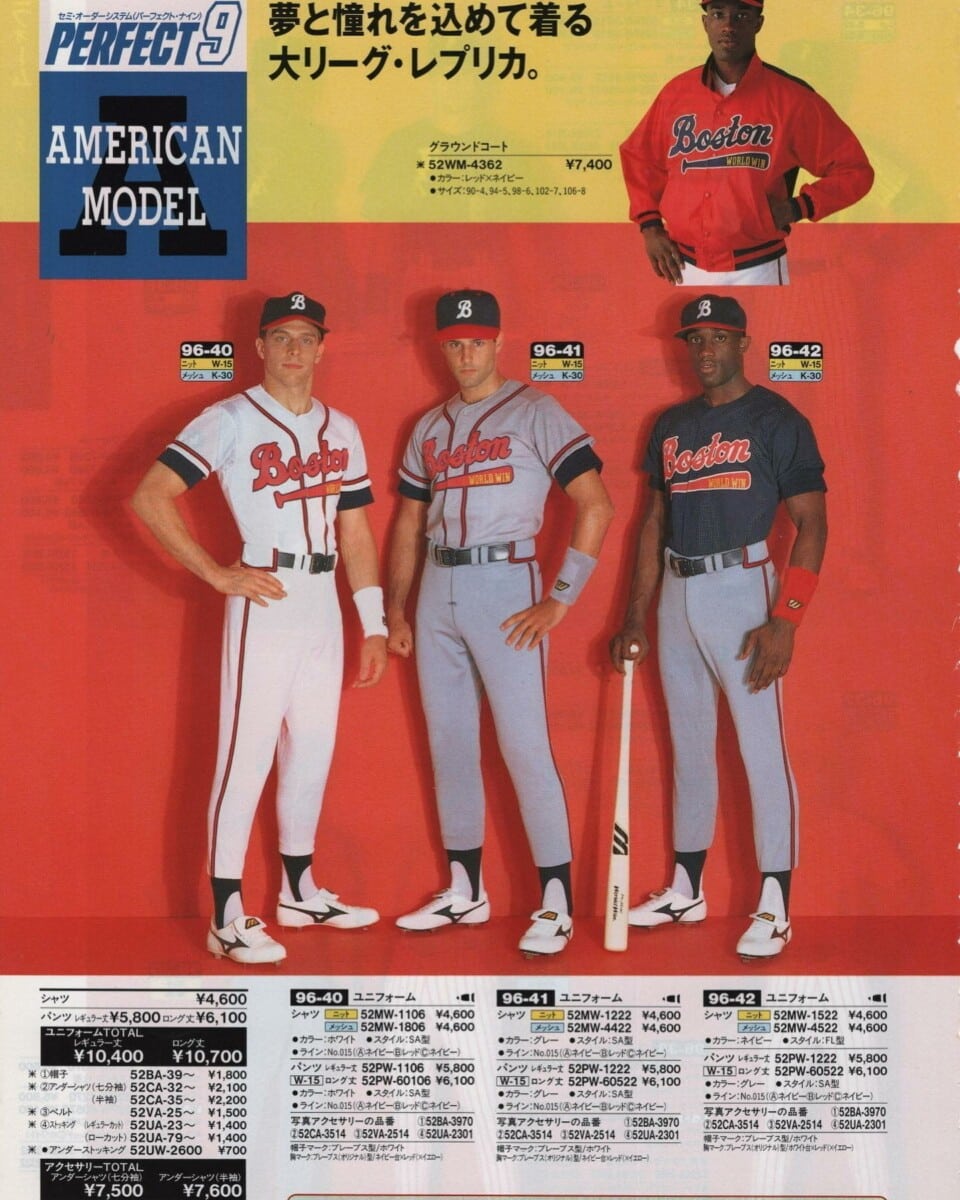 Editor's note: From left to right: Eric Pirius (Albert Wesker), Charlie Kraslavsky (Chris Redfield) and another model in a baseball uniform catalog.
I used to ride my motorcycle around Tokyo back then, and I would often see Eric riding his bicycle very fast in and out of traffic, and sometimes he would even blow right through red lights. He still loves bicycles, and he competes on a mountain bike these days. I have been FB friends with both him and Greg for several years, but never saw them again until Andrew reunited us last year in June. I think I might have had just a couple of interactions with Greg back then, other than RE1 Biohazard. I don't quite remember, but most likely I took him on a couple of auditions and acting jobs.
Greg was the Principal at the Australian School in Tokyo, and he knew Inezh and her family a little bit. As far as I recall, I only met Inezh, Jason and Linda on the RE1 Biohazard shoot. I think Inezh was also in a Karaoke video, and Jason did a Japanese car commercial that some fans found on YouTube, but I don't think I was with them on those shoots. I would love to get back in touch with all of them, and have all of them join us for an interview. I think the fans would really love it!
[Editor's note: Below, a karaoke video with Inezh].
Have you had any contact with Linda and Inezh, who played Rebecca and Jill, since they were found by fans?
Charlie: I tried sending e-mails to Inezh and Linda. I was given the e-mail addresses by a fan. Neither one of them has replied.
Do you think they will come out of anonymity in the future?
Charlie: I don't want to be a nuisance to them, but I hope they might still contact me some day.
How is it that for years you didn't know you'd been involved with Resident Evil? Before you found out you'd been involved in the first opus, had you even heard of the franchise? Did the Resident Evil films, directed by Paul W.S. Anderson and starring Milla Jovovich, tip you off?
Charlie: I don't remember the exact sequence of events, but the reason I was oblivious to the fact that I played a big part in RE1 Biohazard, was because the working title when we filmed it was just 'Biohazard'. Due to some copyright issues, it was renamed 'Resident Evil' in markets outside Japan.
I left Tokyo in 1996 around the same time the game was released. Not being much of a gamer, I never realized Resident Evil was synonymous with Biohazard, until fans tracked me down on social media around 2017. This was a bit like life imitating art, because Capcom intentionally left our last names out of the credits, and that created the ultimate puzzle for the hardcore fans, "who are these actors?". I remember seeing some of the Paul W.S. Anderson films before that, and thinking, this looks kind of familiar, but I did not put it together, maybe because the main character was Alice?
How did you react when you found out you were famous among fans of the franchise? How do you feel about the popularity of your work in recent years?
Charlie: I don't think it fully registered with me at first. I had several people contact me for interviews and podcasts, but I was not very motivated to participate at first. It was only after the reunion interview with Eric and Greg, and filming the teasers for The Keeper's Diary, A Biohazard Story and REsurrections, that I really started to get excited.
Many fans started contacting me, and sharing their stories, and how much the game means to them. It really touched me, and motivated me to do something special.
After you left Tokyo, what did you do professionally? Did you continue to exercise your acting and modeling talents, or did you explore other fields of activity? Where are you currently living?
Charlie: I left Tokyo in 1996, and moved to London. I went to work for a large wholesale travel company, coordinating Japanese group tours all over Europe. They transferred me to their New York office in 2000, where I became their operations manager. In 2003 I moved to San Francisco, and I was an outside sales representative there until 2005.
I also worked for them in Honolulu for six months, training staff in a new branch, before leaving the company. I got back into acting in 2005, and was also working full time as a waiter in a high end French Restaurant in San Francisco. I moved to Los Angeles from 2012 until 2018, and was doing some restaurant and acting work there. I returned to Northern California in 2018, and I was working in sales for a Japanese fish company. I was laid off during the Covid-19 pandemic. I went to work for a good friend who owns a used car business, where I work in sales.
I live in Sonoma County, about one hour north of San Francisco.
In 2022, you reunited with Greg Smith and Eric Pirius, the original interpreters of Barry Burton and Albert Wesker. How was the reunion?
Charlie: The reunion was very special. We all went right back to joking around and reminiscing about our shared experiences in Tokyo. It was a tight schedule, and Eric had to leave a couple of days before Greg did.
Once we were done filming, we had an extra day built in, so Andrew, Greg, and I visited Bryce Canyon, and then had an amazing steak dinner. I stayed one more day after that, and at my request, Andrew took me to the shooting range. I had never shot a gun before, so he gave me a thorough training on safety and etiquette, and I had a fun time shooting several different guns.
You've also directed several pieces of content with Andrew Saullo, including a sequel to Resident Evil with Greg Smith and Eric Pirius. What can you tell us about that experience?
Charlie: I was not the director, but I did give Andrew some creative ideas. Since all three of us were there, we felt we owed it to the fans to film something with the three of us reprising our original roles.
The final result is not as polished as the teaser for The Keeper's Diary, A Biohazard Story. This is because it was a last minute idea, that we somehow managed to pull off.
You're also preparing The Keeper's Diary: A Biohazard Story based on the story and character of the Keeper from the first opus. What are the stakes and themes of the film? What stage is the film at in development?
Charlie: The film will bring to life the characters that are mentioned in this famous document from the first game. We will get to witness first hand, the cruel and inhumane Umbrella Researcher, and the slow decline of his cognitive abilities. Ultimately he turns into a zombie, and in that moment he utters the iconic catchphrase, 'Itchy, Tasty'.
We see a direct parallel to the character Jack Torrance, from The Shining here, and we believe he was an inspiration for this character. If I had to state what the overarching theme and stakes are, I would say that: when you sell your soul to the devil, Umbrella Corp in this case, there are consequences. In the real world, the stakes are that we have a real opportunity here, to create one of the best fan made films ever, and we really don't want to let the fans down.
If we are successful with this short film, it could pave the way for REsurrection, which would star Eric, Greg, and I, reprising our original roles, but set in the present day.
Since your many collaborations with Andrew Saullo, you've been the subject of an action figure, as well as mods for the latest Resident Evil releases. How do you feel about that?
Charlie: Since becoming more active on social media, I have done several collaborations with fans who are digital creators. The RE community is rich with many very talented creators and artists.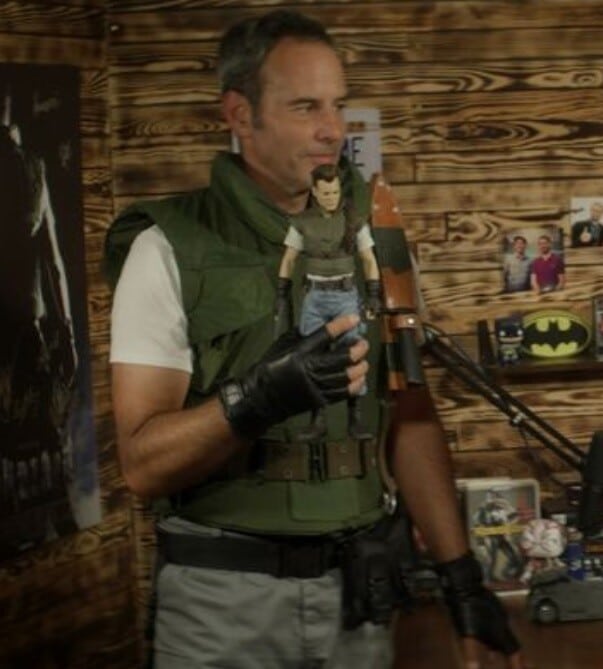 Editor's note: Charlie Kraslavsky and his Chris Redfield figurine by Mugico.
I should mention that I have not been compensated for any of these, and I do them just for fun, and for the enjoyment of the fans. I have to admit, it's pretty cool to have your own action figure. I try not to let any of it go to my head.
Were the people around you surprised by the enthusiasm of Resident Evil fans? In fact, are there any Resident Evil fans in your circle?
Charlie: I guess the first one to be surprised was me, due to my ignorance of the fact that 'Biohazard' and Resident Evil 1 are the same game, until a few years ago. Around that time I was working with a Japanese guy who is a big gamer, and he recognized me. So far he is the only one to recognize me.
When I first started posting videos with Andrew, many of my old friends mistakenly thought I was going to be in an official RE film, so I have had to explain it all to them.
What do you think of the Resident Evil films and Chris Redfield's interpreters, like Wentworth Miller or Robbie Amell?
Charlie : I thought they were mildly enjoyable, but cheesy action films. I have only seen a couple of them. I think that both Wentworth Miller and Robbie Amell were good choices as physical types. I thought Wentworth's portrayal of Chris showed a sensitive side, but the writing did not really allow for him to make a big impression. I think he is a good actor.
I have not seen Welcome to Raccoon City, or any other films or tv shows with Robbie Amell.
Would you be interested in reprising your role as Chris Redfield in a possible remake of the original game, as was done for Resident Evil 2 and 3?
Charlie: That would be amazing! I would do it in a heartbeat.
What's your taste in pop culture? What films, TV series, books or video games inspire or entertain you? What works have marked your life?
Charlie: I think I have a fairly eclectic taste, but I am most drawn to Sci-Fi and Fantasy movies, Westerns, Thrillers, and Horror films. My favorite film of all time is the original Blade Runner. I also love Japanese Anime, my favorites are Akira and Ghost In The Shell.
Other films that made a profound impression on me when I was young were Star Wars, Jaws, The Godfather, Butch Cassidy And The Sundance Kid, The Magnificent Seven, Westworld, Death on the Nile, all of Mel Brooks' movies, The Planet of the Apes, and the list goes on.
I am not much of a gamer, but I had an unhealthy addiction to Star Fox in the late 90's. Growing up we used to go the video game arcades a lot, and I used to love Punch-Out! I also loved shooting and driving games a lot.
What state of mind are you in today? What are your current and future projects?
Charlie: I am over the moon right now, because we crushed our crowdfunding goal for The Keeper's Diary, and there are still five days left in the campaign. We are really going to do this!
Fan-made projects I am currently involved in include: Carrier: A Raccoon City Story which is an animated web-graphic novel, Biohazard Untold Stories which is an open world game, Nightmare Begins, and I also collaborated with Night Driver on a synth music composition with some cool images and a voice over by me.
I also have a small cameo in Daymare 1994: Sandcastle, which releases on August 30th. It will be the first time I appear in a video game since 1996!
Before we finish, do you have a message for Resident Evil fans?
Charlie: I'm back baby, I'm back!
We've come to the end, so thanks again Charlie for taking the time to be interviewed, see you soon.
Charlie: Thank you so much Thomas!
Interview by Thomas O., for Eklecty-City.fr, who thanks Charlie Kraslavsky for accepting this invitation.
*Let's take advantage of these few lines to pay tribute to Resident Evil fans Talonide, dr_raichi and Fred_Derf, who have tracked down the original interpreters of Resident Evil characters. Thanks to their research, many fan projects have come to life since 2017.