Stefanie Joosten, from Metal Gear Solid to pop, talks about her second album 'Intermission', produced by Raney Shockne and Sergei Kolobashkin.
In 2015, when Metal Gear Solid V was released, we met Stefanie Joosten for an interviewed in which she talked about her interpretation of Quiet, an enigmatic and charismatic character, in Hideo Kojima's game. She also lent her voice to the game's original soundtrack. Seven years later, in 2022, Stefanie Joosten launched into pop with her debut album, 'Singing to the Sky', produced and co-written by disco genius Giorgio Moroder. In this first opus, she pays tribute to the 80s with rhythmic tracks and a cover of the hit 'She's on Fire'.
Building on the success of her debut album, the Dutch singer and actress takes us on a new musical journey with 'Intermission', her second opus due for release on November 10, 2023. Eight years after our first meeting, we catch up with Stefanie for an exclusive interview, in which she talks about her career, her passion for music and her new project, the fruit of a new collaboration with Moroder.
Read the Stefanie Joosten interview below, or click on the link to read the interview translated into French.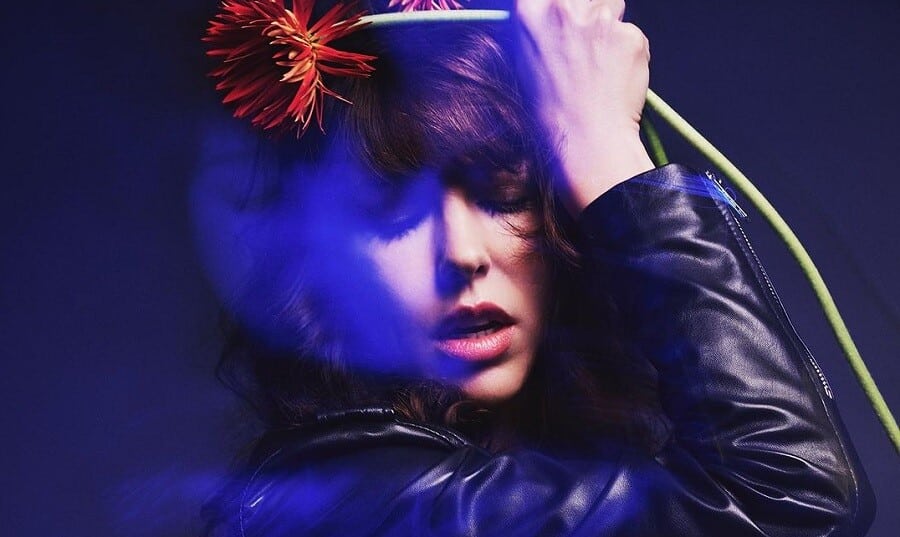 Hi Stefanie, first of all thank you for agreeing to this new interview. Before we get started, what state of mind are you in as we approach the release of your new studio album?
Stefanie : I would say, I'm in a very joyful state of mind. I'm incredibly excited to release my second album in collaboration with Giorgio Moroder. It was truly a dream project, and it almost feels unreal to finally share it with the world.
In 2015, we had the pleasure of interviewing you on the occasion of the release of Metal Gear Solid V: The Phantom Pain, in which you played Quiet. Eight years have passed since our first interview. What have been the highlights of your professional career in that time? How would you sum it up?
Stefanie : First of all, it's very lovely to be talking to you again after all these years. Playing Quiet was a very memorable experience that cherish to this day, and I'm very happy to say that I was able to continue working on video game projects ever since. I was able to explore new characters that are so vastly different from each other, it really helped me grow as an actor. Highlights of recent years are playing sisters Briar and Lute in Soulstice, and Vivienne Niemantsverdriet in Wanted: Dead.
Today, we're not here to talk about video games, but about music. You told us that singing had always been a passion for you, and that you'd had a few opportunities to sing for your work before performing the Quiet theme. Since then, you've appeared on the soundtrack of Wanted: Dead, for which you're also the lead cinematic director. Music is now an integral part of your life. Was recording the Quiet theme a turning point for you?
Stefanie : It certainly was a turning point since it was the first video game soundtrack that I worked on. Singing Quiet's theme is something I approached in a similar way as I did playing the character. So in a sense, it was still something that I considered as playing a role. In recent years, I really got to explore a different creative freedom of performing as a singer. Which was also quite challenging, since it felt more personal in a way.
In 2022, you released your first studio album, Singing to the Sky, a tribute to the disco and pop music of the 80s. For this debut album, you collaborated with some of the biggest names in music, including Matt Sorum (Guns 'n Roses), Kenny Wayne Shepherd, Dave Way and Howie Weinberg. An album produced by Giorgio Moroder, in which you cover « She's on Fire » from the Scarface film soundtrack. It's impressive to be able to bring together so much talent for a first album. Can you tell us a little about how this first project came about, including your meeting with Giorgio Moroder?
Stefanie : Singing to the Sky came into existence after I worked on a couple of standalone tracks meant for the soundtrack of Wanted: Dead. I came into contact with Raney Shockne, who was already working on the soundtrack of Wanted: Dead as well. Raney has worked on collaborations with Giorgio Moroder for many years, and one thing came from another. it's still quite unbelievable to me how this incredible crew came together. It was an incredible honor to work with such talented people.
A few months after the release of your first album, you're back with a new opus, Intermission, produced by Raney Shockne and Sergei Kolobashkin. How does this album differ from or come close to Singing to the Sky?
Stefanie : With Intermission were are continuing in the disco genre, but giving a little more edge to it. While Singing to the Sky felt like a celebration of 80s disco music, Intermission allowed me to experiment and add a deeper meaning to the songs.
What was your main inspiration for this album? How would you describe the musical style of this album?
Stefanie : The album is heavily inspired by Giorgio Moroder's signature synthesizer music, but we also made sure it had a contemporary sound. We aimed to appeal to a wide variety of audiences, both young and older.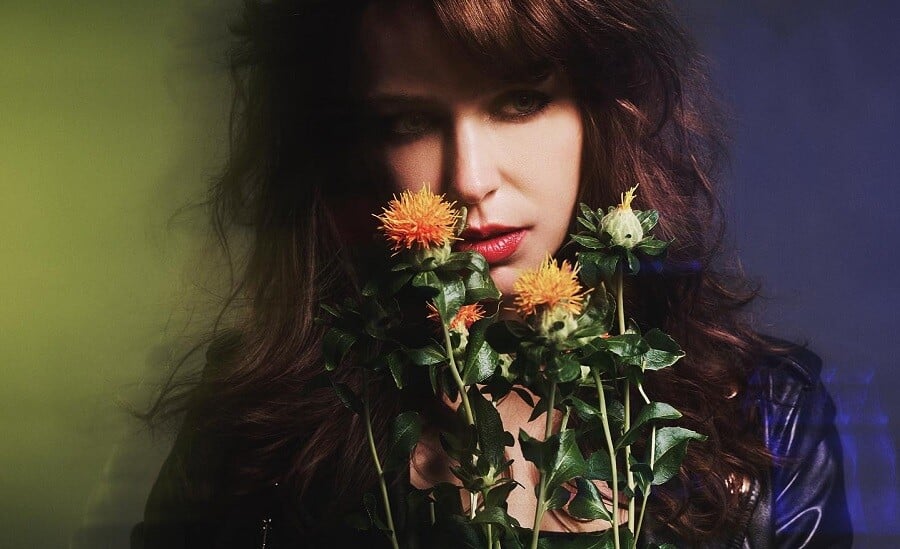 What is the meaning of the title « Intermission »? What is the main theme or message of this album?
Stefanie : The title "Intermission" came up while we were working on the album. During this time, I was in between working on different game related projects, and working on the album somehow felt like a time of both calm, but also there was sense of anticipation about what's to come. The word « Intermission » felt like it captured those feeling perfectly. When it comes to the themes that are explored, the album is very much about the bittersweet moments in life. It's about heartaches and breakups, but also about finding the empowerment in those moments of hardship.
Intermission marks a new collaboration with Giorgio Moroder. The first single is a cover of Sparks' « Tryouts For The Human Race », co-written with Moroder. How did you go about creating this cover version? Was it a proposal from Giorgio Moroder?
Stefanie : The song was proposed by producers Raney and Sergei. They shared the song with me and we all agreed that it's an incredible song. I loved how much humour it had and thought it could be interpreted in many interesting ways.
Giorgio Moroder describes the single as a « wonderful collaboration ». How does it feel to receive such a compliment from the master of disco?
Stefanie : I was incredibly starstruck when Giorgio first came aboard on the production of my previous album, and was ecstatic when I heard he wanted to work with me as a featured artist on these new tracks. Receiving a compliment like this is of course a most wonderful thing.
Can you introduce us to the various contributors to this album? What contribution did they make to this second opus?
Stefanie : We kept the production team relatively intimate this time. Because of our previous work together, we already formed a very solid team and were all really in sync with each other. Intermission is produced by Raney Shockne and Sergei Kolobashkin, mixed by Dave Way, mastered by Howie Weinberg, and engineered by Reno Muggli. The recordings were done at Powerplay Studios in Switserland, which is really a place with a wonderful atmosphere to work in.
Which song on this album moves you the most, and why?
Stefanie : I feel like I was able to channel my views and experiences through all songs on the album, but Life in Tokyo and Resist may be my personal favourites.
You now have two studio albums to your credit. Are you planning a series of concerts, particularly in the Netherlands?
Stefanie : I can't go into specifics about live performances just yet, but I think it would be wonderful to take these songs to both a local and international audience.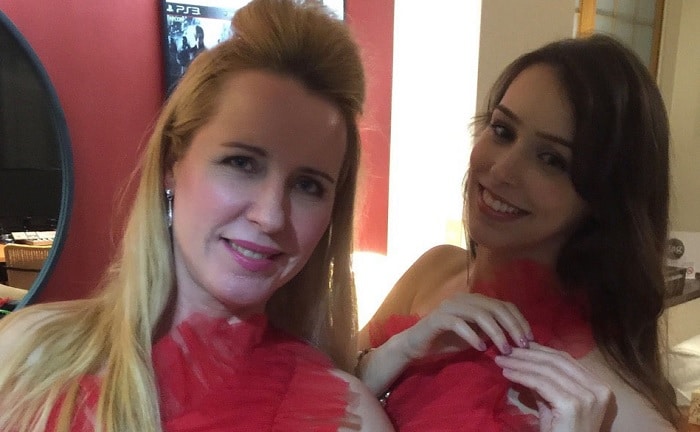 Before we conclude. A question for all Metal Gear fans ask themselves. When will we see a new duet with Donna Burke? (Laughs)
Stefanie : I love that you asked this question. Donna Burke is a great friend, and I miss her a lot since I do not live near her in Tokyo anymore. Who knows, it would be wonderful to collaborate with her again in the future.
We've come to the end of the interview, and thank you again Stefanie.
Stefanie : Thank you Thomas, I was very happy to talk to you again. I'm very grateful that you have followed my career since such a long time ago at Eklecty-City, and I hope to speak to you again about new projects in the future. All the best!
Interview by Thomas O., for Eklecty-City.fr, who thanks Stefanie Joosten.