Let's leave trends aside and focus on originality. With Adopte un Créatif, you will discover passionate, creative, youtubers / youtubers unknown who make the news of the web. For this new issue, I went to meet Jeremy I Ralte.
Today, it's a special issue of « Adopte un Créatif » that I propose to you. Following the buzz generated by a video on our social networks, I wanted to know more about its author. Here are the explanations.
Interview also available in French.
A viral video from 2020
Let's go back in time. In April 2020, the whole world has to face one of the biggest health crisis of its history. Many countries are implementing a population lockdown to try to contain Covid-19. In order to keep themselves busy during the first lockdown, people around the world are going to get creative to fight boredom. That's where Jeremy L Ralte comes in.
Jeremy is from Mizoram, a state in Northeast India. During a cyclonic storm, he decides to brave the wind with an imitation of Michael Jackson. In the video, we see the young man doing a live performance on the song « Earth Song » by Jackson. Taken from the album HIStory (1995), the song deals with environmental themes and evokes war, pollution, deforestation and cruelty to animals. Michael Jackson's goal was to get an environmental message across.
Very quickly, the video of Jeremy L Ralte became viral. His imitation of the King of Pop and his exit on tiptoe amused the Internet users.
Voir cette publication sur Instagram
A second buzz in 2022
At the beginning of 2022, several islands in the Western Indian Ocean are on alert following the cyclone Batsirai. This is particularly the case for Mauritius, Reunion and Madagascar. In the wake, our Facebook page is the subject of several notifications.
Indeed, the video of Jeremy L Ralte is the subject of a second buzz among the population of the islands in cyclone alert. To give you an idea, the video (deleted since) went from a hundred views to more than a million views and thousands of shares and reactions. In the comments, many Internet users wanted to reproduce the video of Jeremy L Ralte during the passage of Batsirai.
This is notably the case of the Mauritian artist Warren Chris Etowar. Following the buzz of the video of Jeremy L Ralte on our Facebook page, several of his friends asked him to reproduce the video. Interviewed by the site lexpress.mu, Warren Chris Etowar explains: 'By the way, several friends have tagged me since the announcement of the cyclone Batsirai in a video dating from 2020. Knowing that I'm a Michael Jackson fan since I was a kid, they saw me in that video… It was around 3:00-3:30 pm, I was at my cousin's house, we were playing board games, and according to the weather forecast, the cyclone was going to pass its closest point to Mauritius around 4:00 pm. It was windy, and I remembered this video… I didn't expect this video to go viral and even be shared thousands of times on the networks and make the buzz in Reunion and Madagascar.'
Meet Jeremy L Ralte
Following the new buzz of Jeremy L Ralte's video, I proposed to Jeremy an interview. The idea is to shed light on the author of the original video, but also to know the backstage of one of the funniest videos of the Internet.
Discover the backstage of this video and the universe of Jeremy L Ralte, who is also the singer of the metal band Stacy's Penitence.
Hi Jeremy, thank you for accepting my invitation and for agreeing to answer my questions.
Jeremy: Thank you Thomas for offering. I'm really nervous and I'll do my best… To be honest, I'm not good at interviews.
Tell us more about yourself:
Jeremy: I live in McDonald Hill, Zarkawt, Aizawl, Mizoram… a state in northeast India. I am still finding my way in life… I love music, sports and yes, making videos… documenting things…
You are the author of one of the funniest videos on the internet. How did you come up with the idea of doing a Michael Jackson impression in the middle of a storm?
Jeremy: (Laughs) It's not the funniest video. Well, storms, where we live is not new to us. I actually got the idea from my late brother who influenced me in every way. He used to do this when we were kids. So the night before I shot the video… there was another huge storm and my brother and I went out on the porch and started singing the Earth Song at the top of our lungs. Then it hit me, I told myself when the next storm came I would make this video. The next morning, after my run, there was a big storm… so I went downstairs, put my phone on the porch… and that's how it happened.
What made the internet users laugh a lot is also the end of the video where you leave on tiptoe. Why did you end the video like that (laughs)?
Jeremy: (Laughs) Yes, I laughed a lot at the end. I mean, it was mostly because I was wearing socks with flip-flops and I was afraid of slipping. I try to keep my balance! The storm was pretty sudden and I didn't have much time to change.
Very quickly, the video went viral. What was your reaction?
Jeremy: I was surprised actually. I make videos because I like making videos… I'm not trying to get attention or anything like that… it's more of a hobby. So when it went viral, I was shocked and obviously happy, but I didn't really know what to do. To be honest, I was nervous about my next video. What if it's not a hit? So, I guess it changed my mindset in a way… it changed so much that I even forgot why I started making videos… for fun, not for attention or to go viral… So, I tried to get better and have fun instead of going overboard.
I uploaded this video because I thought I hadn't uploaded any videos in a while. And then the Indian media texted me and asked me all these questions… I was trying to keep my cool, it was huge for me. I even started a YouTube channel. I was trying to grow as much as I could at the time… but things change.
I saw another video on your Instagram profile where you're imitating samurai in a storm. It's really funny too.
Jeremy: Yeah, that happened in April, storms are common in April… and that was me trying to get attention. (Laughs). But the costume… it's my brother's samurai costume and a bokken stick.
Voir cette publication sur Instagram
Have you recorded other videos in this style?
Jeremy: Yes, I have, like I said, storms are common and they're not new. I've done a lot of them actually, in the storm. I did one in a Bruce Lee costume, with the famous yellow suit, and it was even shared on 9gag. I've done other videos where I'm dancing half-naked in the rain and a bit of a storm.
Voir cette publication sur Instagram
Voir cette publication sur Instagram
Voir cette publication sur Instagram
Before I contacted you, did you know that your Michael Jackson impersonation was still making the buzz in 2022?
Jeremy: No, I didn't know that. I thought it was a thing of the past, although I was getting likes here and there on the video from abroad. I was surprised when you told me and offered me this interview. And people are sending me links where my video has been uploaded on certain platforms, like people reacting on YouTube with the title « what Filipinos do during a typhoon » I'm not sure.
And last year, UFC fighter Derrick Lewis even featured my video. And people sent that to me too. So, that's it.
Today, your video has gone beyond viral. It is itself the subject of parody. What do you think of the people who are reposting your video?
Jeremy: I'm just happy that people have been able to make the best of it, that they're enjoying it and having fun with it. At first I was disappointed because I didn't think I got much credit as the owner of the video, to be honest. People sent me all these links where they were using my video. They asked me why I didn't do anything, that I should be credited for the video and all that. And I think that made me bitter. And since it went viral, I want to be credited so badly that I even added my name to some of my videos that followed. But like I said, I got lost for a while back then.
It changed my mindset… but somehow, not that I found myself or anything… credit or no credit, it didn't really matter. People like it, I like making videos… a win-win situation I guess. Making the world a happy place.
(Click on the image to see the video of Warren Chris Etowar)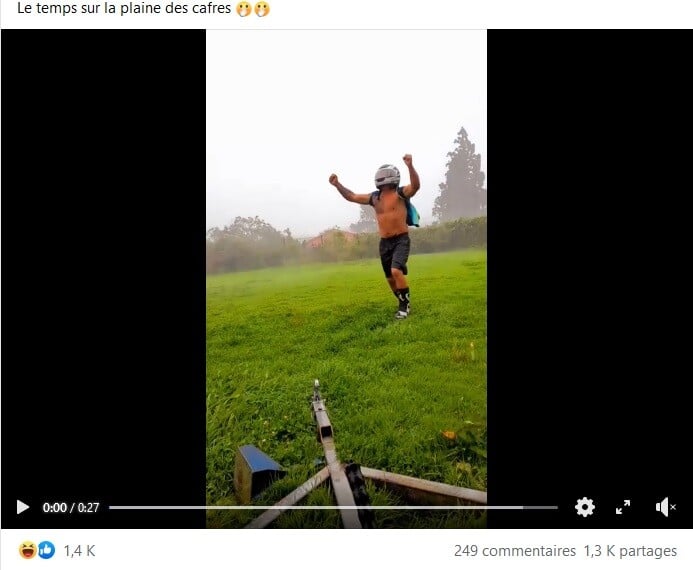 (Click on the image to see another version of Jeremy's video)
What content do you consume on the Internet? What do you like to watch?
Jeremy: I watch different types of content. It changes depending on my interests in life. When I'm into music… I watch videos about music, and so on… sometimes I follow tendencies and suggestions from the internet, so I can't specify. Sometimes self-help videos.
What is your first memory with internet?
Jeremy: It was in 2003, we had dial-up internet access. My brother and I were playing « Kaun Banega Crorepati« , an Indian version of « Who Wants to be a Millionaire?« . We used one of the wildcards where you can call for help. We dialed our grandmother's landline and she picked up the phone. But she didn't know the answers at all. And Dad came in and scolded us (laughs).
Let's talk about Pop Culture. Can you tell us what are your favorite works ? Your influences?
Jeremy: I'm a man of leisure, and I do a lot of things… I play music and I listen to rock music mostly, and I change who I listen to depending on my mood… so I change who I listen to depending on my mood… I'm influenced by bands like Emery, Biffy Clyro, Linkin Park (Chester Bennington is one of my favorite singers)… and they also influence me in my songwriting (laughs).
I also play sports, I play soccer, futsal, basketball (sometimes). And I'm training to be a triathlete. It's a dream for me to be an Ironman. For a long time. I'm not even sure what I want in life. So I guess I end up doing a lot of things. Then I discovered triathlon and Ironman…it changed my outlook on life. I don't know how, but in a good way.
I like to document things, like I would document a spider eating a fly and tell what's going on or document our trail when we're hiking… I did that a while ago. I learned about it while watching the Discovery Channel. So I guess I was doing vlogs before it was called vlogs (laughs). But I keep them to myself.
And in 2013, I started doing these Vine-influenced videos where I would do a 'challenge' video where I would yell in public places, train stations, planes, classrooms… (laughs)
Voir cette publication sur Instagram
Voir cette publication sur Instagram
Voir cette publication sur Instagram
This video may be the first one that has gone viral locally. At least in the northeastern states of India… if I'm not mistaken.
And I've also started reading books recently, I haven't read many, but I love Tuesdays with Morrie by Mitch Albom… I don't have a favorite…
One of my favorite movies has to be What we Do in the Shadows (2014), my friend Matthew introduced me to Taika Waititi, I love his humor. And I think Friends is my favorite show… or The Office… I can't decide. And as for anime, I don't watch much, but I like Dororo (2019). I love the Dororo OST and anime OSTs are always amazing. I recently watched The Demon Slayer! I love it. And I love the works of Studio Ghibli. I feel like I'm in Japan.
Regarding, superheroes, I prefer DC to Marvel… because it's darker. And the DC villains are so authentic. My favorite hero, I guess, is The Flash, because super speed is a power that makes me dream… or teleportation. I enjoy the Star Wars franchise immensely.
The list can go on and on, but I guess that's what I like. In short, music and sports are my passions.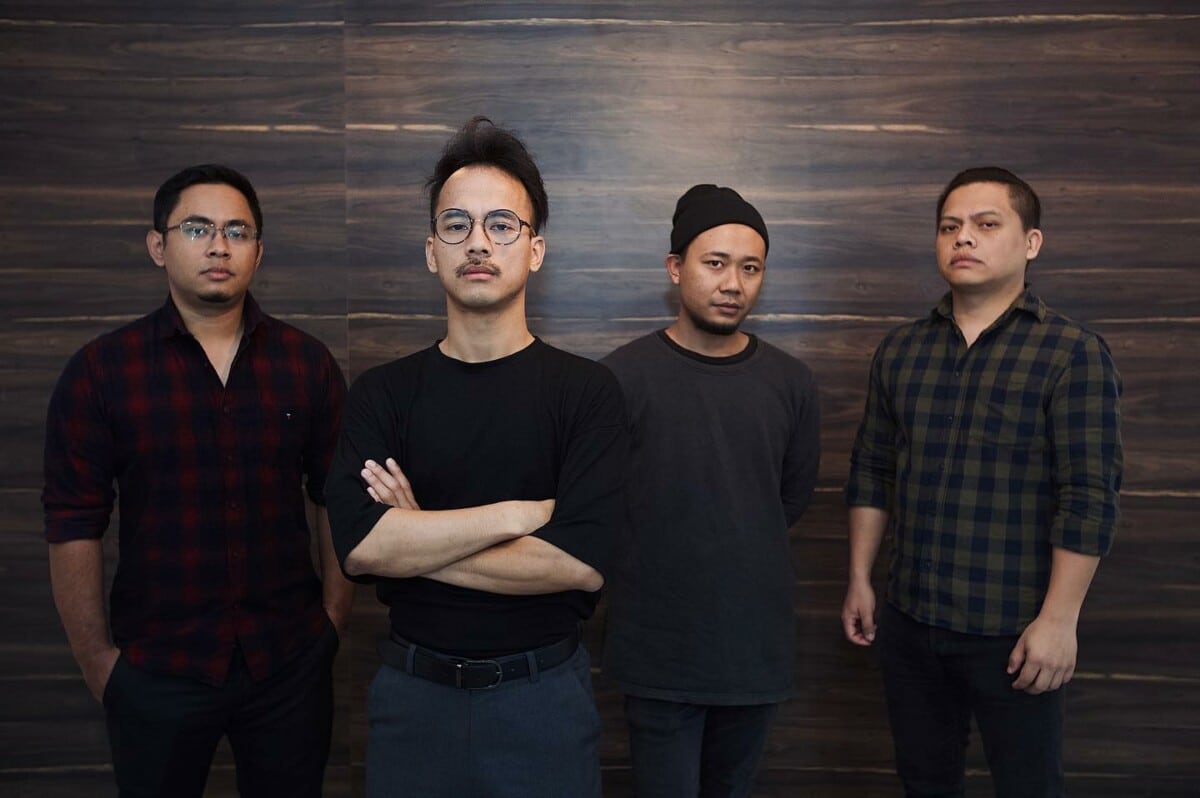 You talked to me about music as a passion, I saw that you are a member of the band Stacy's Penitence. Can you introduce us the band and the members of the band?
Jeremy: Currently, the band has 4 members… Bobo Renthlei plays guitar, synths, and backing vocals and produces our music. He has an incredible home studio. Puia Hmar plays guitar and backing vocals and Zama Ralte plays bass and synths and I sing in the band. Sometimes I play keyboard or guitar, if they let me (laughs).
We tried our best to be consistent in the music, to have more material, but it seems impossible sometimes, we still try and we plan to do an album or at least an EP. We have to manage with our personal business, sometimes it's hard to find time.
Our latest track, Reason To Stay, currently available on Youtube, was written by Zama, our bass player. We share and exchange ideas in the studio. That's how we come up with a song… we share our ideas.
We played in festivals like Orange Festival, Chapchâr Kût (Festival in Mizoram). My performance at the Orange Festival was massacred because of my allergy to winter… I was so ashamed. I had cracks in my voice again and again.
We play different kinds of rock… mostly rock… metal, metalcore… The band doesn't belong to a specific genre.
Hopefully we will find new material soon!
Do you plan to make any new videos in the future?
Jeremy: Yeah, I'm going to try to make some new videos. It's really hard sometimes. There is no idea, no motivation. Especially since my brother passed away. I don't feel like doing anything. But I really can't sit around sulking and being sad… so yes, I will try to make more videos!
In closing. Do you have a message for the internet users around the world, but also the content creators, who enjoyed your Michael Jackson impersonation?
Jeremy: (Laughs), I'm not in a position to say anything to anyone. I think we should be honest with ourselves… do what we love, I know it's a cliché… and remember why we do it, and have fun. Also, do whatever you can to save the environment. #saveearth
And, for the video… all credits to Michael Jackson's wonderful « Earth Song« … my video would be nothing without it… and all the people involved in it… the studios, the labels…
And I also think of my brother, who gave me the idea and introduced me to wonderful music.
We are at the end of the interview. Once again, thank you for answering my questions.
Jeremy: Thank you very much for this interview and discussion.
Find Jeremy on social networks:
Instagram
Youtube
Find Stacy's Penitence on social networks:
Facebook
Instagram
Youtube
Interview by Thomas O. for Eklecty-City.fr, who thanks Jeremy for participating.