From pop culture to porn culture, with Carré Rose, Eklecty-City's editorial team goes to meet X actresses who entrust us with their beginnings in the porn industry, the backstage of the profession, their current news and of course their cultural tastes. For this new issue, we went to meet actress Susan Ayn. Susan was born in the Czech Republic, she started her career in 2013 at the age of 21, she now counts more than 300 scenes.
Hello Susan, thank you for participating in « Carré Rose » our naughty column. In case there are Internet users who don't know you, can you introduce yourself?
Susan : Greetings to you, Thomas, and all the « Carré Rose » readers. Well, I was born in Czech Republic (Moravian part of the country), and I lived in my birthplace up to my end of my secondary schoolstudies.Then, soon after my eighteenth birthday, along with regular work (restaurants, etc.), I started shooting and also tried work in some local night clubs. In these clbus some agents from Prague noticed me and I've been traveling to Prague reguralry for the jobs there. Then I moved to Prague, the capital city and worked there for few years. And as of now, I am traveling the Europe as freelancer.
At what age did you decide to enter the X industry?
Susan : I was 21 at that time.
What is the origin of your pseudo ?
Susan : Well my first pseudo was Susan Sweet – I think no doubt about the origin (laughs) But one of the agents told me, that if I want to be something extra, I need to have much more original pseudo as well, because "Sweet" is a very common pseudo in porn industry. We needed the new name quickly and I was to tired to think about new one seriously, so she suggested me "Ayn" and after some googling around, I accepted. The origin of "Ayn" comes from name of a commune in Savoie department on south of France, but I have no relationship with that region, we just liked how it sounds.
Tell us about your first set experience. How did it go?
Susan : Completely fine it was. My first shooting setup was 2 girls + 2 boys and the staff expected a lot of complications with new inexperienced girl, but all my answers were "yes" and smile (including some practices that new girls don't like to do), so they were pleasantly surprised.
What is your best memory of shooting?
Susan : I don't have any particular memory of best shooting, but when I look back, I have very positive memories all the scenes shot with my actor colleague Jan Velicka (rest in peace).
The scene you're most proud of?
Susan : That's hard to tell, I made 300+ scenes so far for various studios of all kinds and none of the scenes is exceeding the others so much to name it here. But what I am – if not proud of, that at least pleased by – is how producers value me, I often hear things like "Susan, if all the girls were like you …".
The fantasy you haven't realized yet?
Susan : There's no such a fantasy, I tried everything I wanted to.
During the shootings, do you really take pleasure or are you only in the simulation? I guess there are days with and days without, so how do you shoot?
Susan : Yes, your guess is quite correct. But first of all, most of the people don't realize, that behind every scene, there is many hours of hard work, sex action is often interrupted or complicated by director's requests, or being too long for male counterparts, needing "refresh" … and this all makes it more or less difficult to enjoy. And if you take into account, that the routine, "empty sex" aspect of the production, I think that if someone answers like enjoying it every time, it's simply not possible. And I am no exception. I can tell you I love sex enormously, but producing a sex scene is not the same.
Which production studio do you think is the best today?
Susan : From studios I have worked with, Legal Porno.
Are you a big porn consumer?
Susan : Well I will most probably surprise you here, but no. In fact, I don't watch porn at all, not even my own scenes.
What do you like about porn?
Susan : Money (laughs)
And what do you hate?
Susan : Well … unreliable people, cheaters putting others to the risk and in one word – unprofessionality.
What are your limits for a scene?
Susan : Only very few limits. I have no problem with triple anal, pissing, or ten men, but what I never do are, let me say, excrement related practices and I also don't shoot hardcore submission-domination stuff.
Who are the actors and directors you want to work with?
Susan : No favorites in either case. I work with any serious studio or director who gives me interesting offer.
What excites you in a woman/man?
Susan : Handsome men, of course (laughs) and I cannot imagine real sex without deep kissing.
What advice would you give to future actresses who wish to embrace this career?
Susan : I would recommend let she keeps her value – starting from softer stuff and spreading going to everything-is-possible into many years period. What I, of course, didn't (laughs).
You know it at Eklecty-City we deal with cinema news. With which actor/actress would you like to spend an evening (laughs)?
Susan : Leonardo DiCaprio.
Use these few lines to send him a message (laughs).
Susan : Hi Leonardo, can you please ask your current girlfriend if she allows you one-day of unforgettable holidays with me?
So, what does it take to seduce you?
Susan : This is too private question, apologies Thomas (laughs) Lets go to next one.
If tomorrow your life is to be the subject of a biopic in the cinema, what would be the tagline of the movie's poster ?
Susan : Hehe (laughs) … OK, what about this: "Life is tough. But so am I."
Let's talk about your cultural tastes. What are your favorite movies?
Susan : Along the movies with the actor named above (Leonardo DiCaprio), I prefer comedy or romantic movies and most of all, classical Czech films from 80th onwards… but the names won't tell anything to your readers.
What series have you been watching lately?
Susan : No time to watch any series unfortunately for some years now, but when I had time, again the classical ones like Cobra 11.
The music you're listening to all the time?
Susan : I love music and can't live without (laughs) Most of the time it's pop or dance music up to nineties. Only rarely more modern ones.
We also take care of video game news. Are you a gamer? Tell us about your best video game experience and the last game you played?
Susan : No, no gaming at all – never. Oh wait, very rarely, I used to play desk games, but definitely no electronic/computer games. I don't like it.
Tell us about your news and current projects.
Susan : Well Thomas, I am not the girl of any projects regarding my work – it's like offer comes, I accept, I reject. I have plans and goals I am working on, that's my only "project". Just imagine it like going to any other regular work. The news, well I don't live in Czech Republic since mid-2017, that's most important one.
Where do you see yourself in 10 years? Still in front of the camera? To directing? Elsewhere?
Susan : Definitely not in front of the camera, nor behind and probably not in the adult industry at all. Because In 10 years, I see myself in the middle of my family with some of kids around.
What would you like to say to all your fans and the next ones?
Susan : My dear fans, thanks for all the support and kind words you are posting me on the social networks, I appreciate it and I am glad I can meet with some of you on my European tours.
It's selfie time, you have to take your picture where you are now.
Susan : Relaxing … (laughs).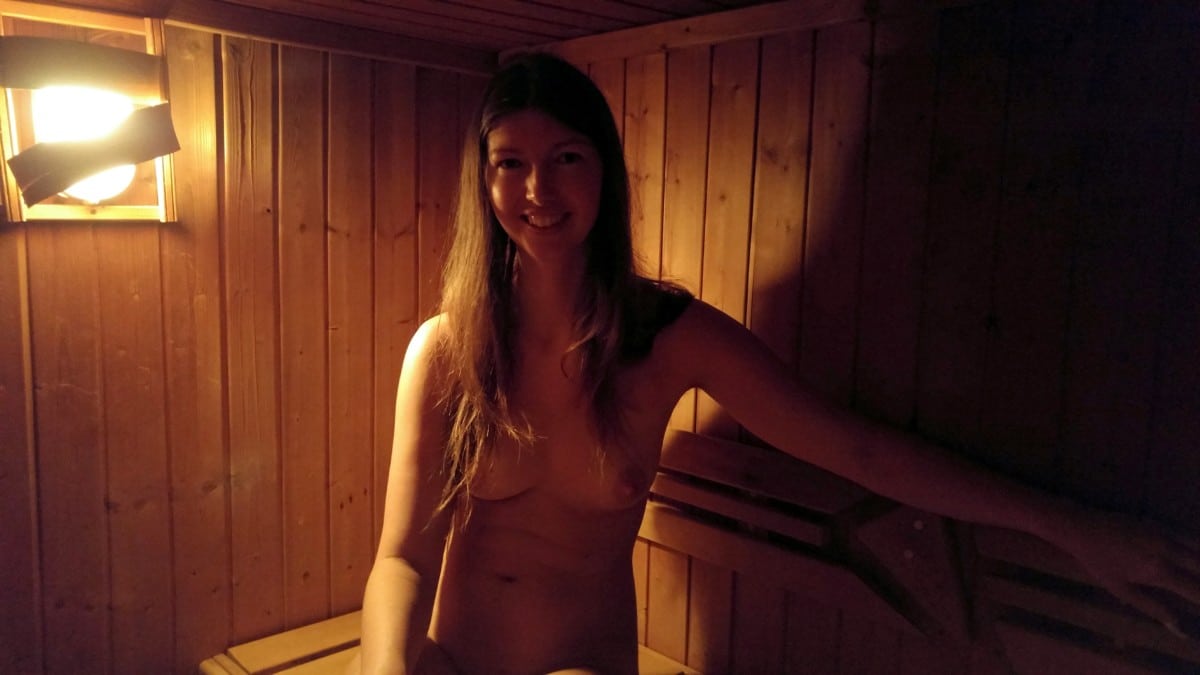 To which other actress(es) would you like us to ask these questions? Why?
Susan : Nobody from adult industry in my mind … but you can try to find some normal (movie / series) actress whose career was damaged by later discovery she was shooting porn before she became famous in normal movies – that could be interesting topic for the readers.
Finally, what question would you have liked us to ask you and what would you have answered?
Susan : Well I'm quite surprised you haven't asked about my favorite sexual toys. And I would answer – to definitely demolish the common idea about typical porn girl – that don't like the toys much a don't use them, except of movie requests. But that's because I'm not typical porn girl (laughs).
Thanks again Susan for playing along, see you soon.
Susan : You're welcome, I hope your readers enjoyed the interview.
Interview by Thomas O. for Eklecty-City.fr, who thanks Susan Ayn for giving us time.