From pop culture to porn culture, with Carré Rose, Eklecty-City's editorial team goes to meet X actresses who entrust us with their beginnings in the porn industry, the backstage of the profession, their current news and of course their cultural tastes. For this new issue, we went to meet actress Ember Snow.
An actress by training, Ember Snow was a model and played an important role in a play before turning to the adult industry. Also a camgirl, she was recently nominated for Cam Crossover at the YNOT Cam Awards, as well as the AVN and XBIZ awards for her stage performances. She makes a strong impression on the industry in the United States, the new starlet has already worked with studios such as Hustler, Evil Angel, Digital Playground and Brazzers. When it rains, it snows, here is our meeting with Ember Snow who also gives us some tips on dredging.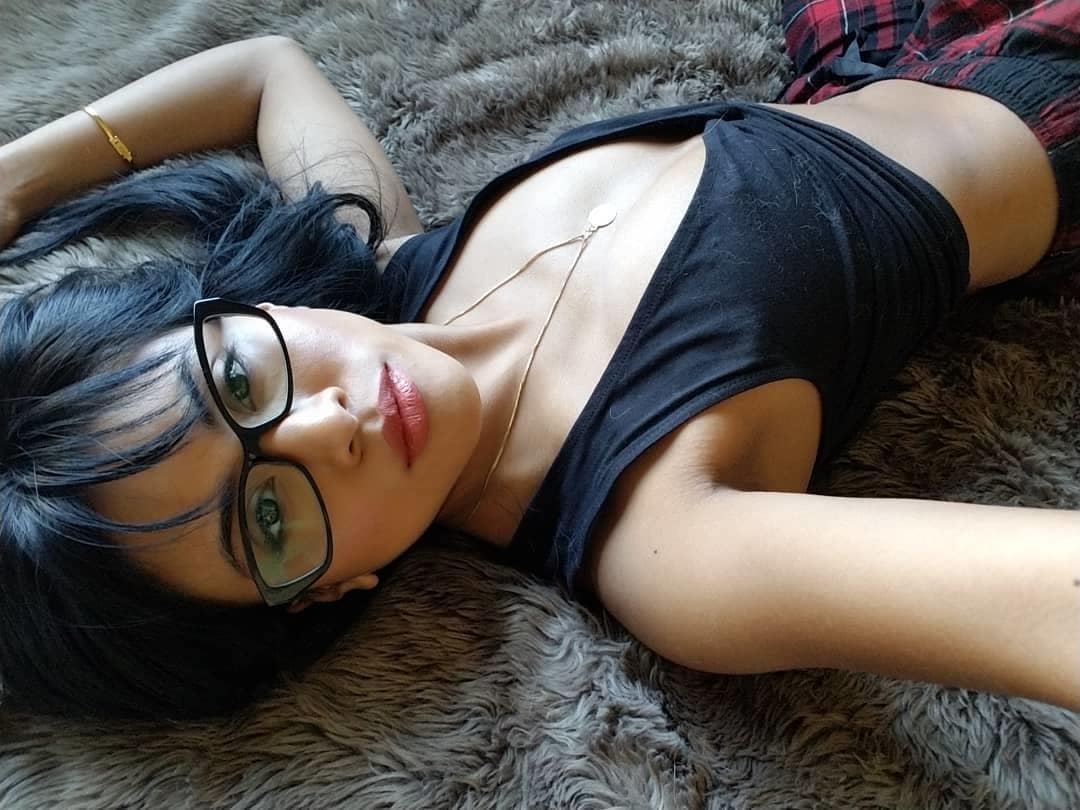 Hello Ember, thank you for participating in 'Carré Rose' our naughty column. In case there are Internet users who don't know you, can you introduce yourself?
Ember : My name is Ember Snow. I'm an adult film performer. I'm Filipino, 4'11 and weigh 90 lbs. I was actually born in Riyadh, Saudi Arabia, but moved here when I was 9.
In your biography, we learn that you are an actress by training. Tell us more about it.
Ember : I kinda got into the whole modeling and acting thing a little late. I was headed more toward the modeling side of things, but I got cast in a few small things and eventually landed a major part in a play. The director pointed out that Asians don't really get a fair shake in Hollywood and that I'd probably have more success if I got into producing, so I decided to do that.
However, I went to several meetings with money people and all of them just wanted to have sex with me. (Laughs) So, I thought about it a lot and said, you know what? I could do porn. Then I could make my own money and fund my projects on my own!
At what age did you decide to enter the X industry and what is the origin of your pseudo ?
Ember : Let's just say, I was old enough to drink (laughs) – not that I drink that much to begin with – and my name comes from a couple things. Ember was originally going to be November, but I decided to shorten it. Plus I like the implication of 'heat'. Even when a fire burns out, the embers still smolder and they are hotter and more dangerous than the fire itself. And Snow, well, it just happened that when I made the decision to do porn, I was in a place where I was experiencing snow for the first time in my life. I loved how peaceful it was and also how pure it seemed.
The two seemed to define who I am. I can be very sweet, innocent and pure, but if you get me into bed, I'll fuck your brains out.
Tell us about your first set experience. How did it go?
Ember : It was with another woman, I have always been very attracted to women. I'm bi, but I tend to play with women a lot more than men. So, even though I was very nervous about doing it on camera for the first time, being with a woman made it very natural for me.
What is your best memory of shooting and the scene you're most proud of ?
Ember : OMG.. all of my shoots are memorable. Seriously, it's hard to pick one. The best memory I have actually has nothing to do with the sex. I was on a shoot and something in my personal life happened. I got a text and it sent me into a spiral.
The legendary porn star Julia Ann was my co-star that day. She found me in the bathroom and immediately knew exactly what the problem was. Not only did she comfort me, but she also tweeted about my problem and asked other girls in the industry to share their similar experiences.
So many women responded and aired their stories to the world. It was such an amazing moment for me and really let me know that I wasn't alone. I will always love Julia for that.
As for the scene, I am most proud of? There are a few. My first cuckold scene for She Will Cheat, my first IR scene with Isiah Maxwell – James Avalon directed and it is just an amazing scene. My TS scene with Chanel Santini. She is so fucking hot, I can't believe she has a dick! And, of course, my first anal scene that was released just recently. I'd been holding off for a while, scared it would go bad, but it went so well, I couldn't wait to shoot my next one.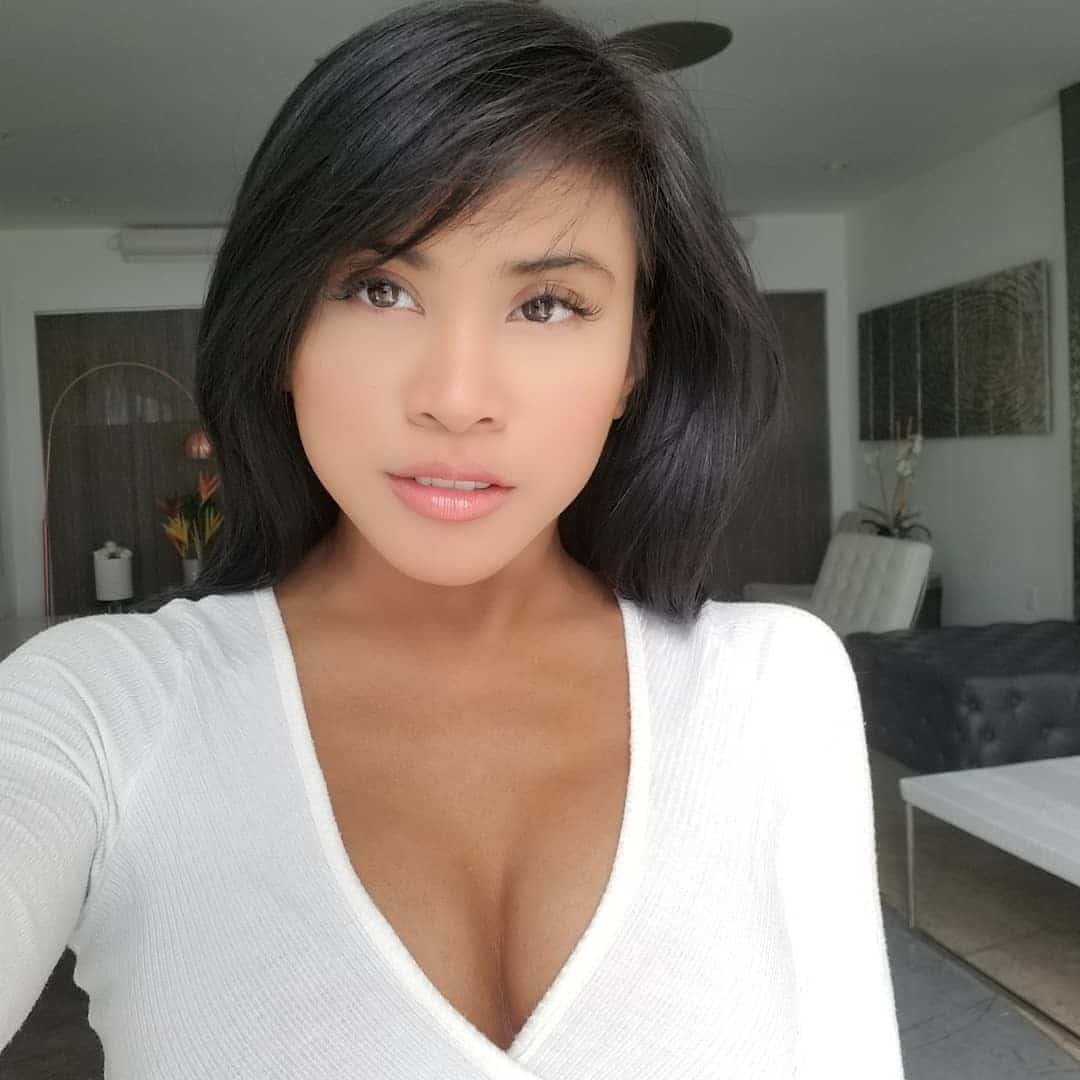 The fantasy you haven't realized yet?
Ember : The Triple Play. Three Guys. DP with Blow Job. And after that a blow bang and then a gang bang. I have such a reputation as a good girl in this industry. They know me as Snow. Time for people to see 'Ember'.
During the shootings, do you really take pleasure or are you only in the simulation? I guess there are days with and days without, so how do you shoot?
Ember : I can only think of two scenes I have shot where I didn't have at least one orgasm. I cum very easily and even if I'm not feeling it that day, it doesn't matter. Once I am in sex mode, that's what's important. Plus, I feel like I owe that to the fans. They're wanting to see me get fucked for real and not act, so I try not.
Which production studio do you think is the best today?
Ember : I don't think there is one single production company. There are so many companies that put out a lot of good product ad I have been blessed to work with the majority of them. There are very few major companies I haven't worked with, but I hope to fix that problem this year.
Are you a big porn consumer?
Ember : Yes, my own! (Laughs) I watch myself a lot. I know that sounds narcissistic, but I study my scenes and try to improve. I want to know what I look like in certain positions and how my body relates to the camera from different angles. Plus I work with a lot of hot people – guys and girls. Sometimes I can't believe I'm actually with them!
According to you, are the camgirls taking control of porn?
Ember : No. I'm a cam girl. What I know is that most of the cam girls out there won't cross the line and do porn, so there will always be those of us who do and those of us who don't. By the way, if any really hot cam girls want to cross the line and work with me, hit me up!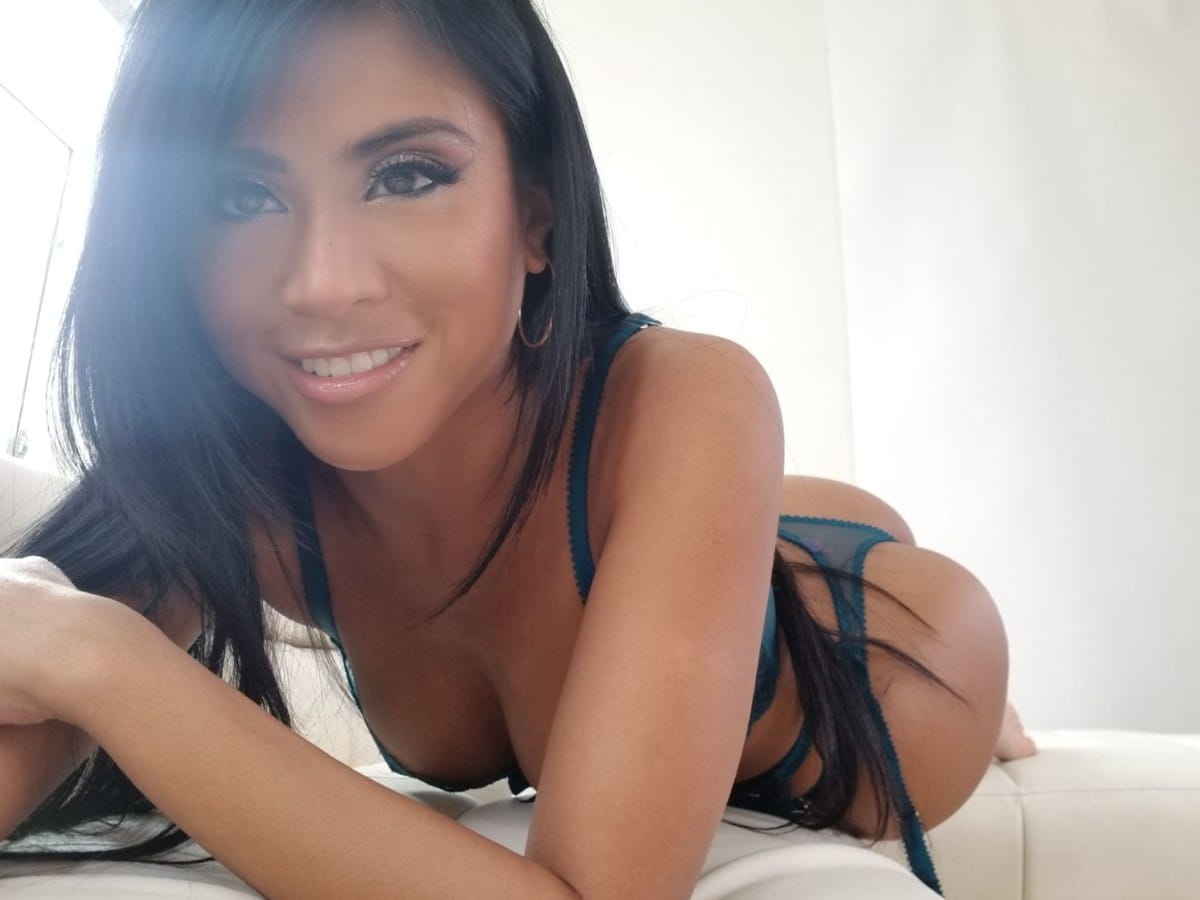 What do you like and hate about porn?
Ember : I don't really have anything about porn that I hate. Hate's a strong word. If I hated something, then I wouldn't do it. I am probably a little disappointed that Asian women are seen as a niche market and reduced to a fetish sometimes, but that doesn't mean perceptions can't be changed, and I am ready to do that! I mean, there have been huge Asian superstars in the past, why can't there be more in the future?
As far as what do I like? Let's talk about what I LOVE. First off, I love sex and porn allows me to explore my sexuality in ways I could never do in my real life. To have the experiences I have had in porn would mean meeting so many random people and taking chances with hundreds of strangers. I'm not about that. I'm very safety conscious. Porn allows me to be sexually free and I love that.
What are your limits for a scene?
Ember : I'm a very sex positive kind of person. If the scene promotes that, then I am into it. If not, then I am not really down with it. I had a scene once where I was supposed to be handcuffed, spit upon and slapped. I asked them if we could cut the spitting and slapping, leave the handcuffs and while the sex was happening, I made sure the audience could see that I was enjoying what my co-star was doing to me. That's the key, I always want people to know that what I am doing fun, pleasurable and positive for me.
What advice would you give to future actresses who wish to embrace this career?
Ember : Come talk to me. (Laughs) There's too much for me to share here, but let me boil it down to this: you never, ever, have to do anything you don't want to do. Don't let anyone tell you that you HAVE to do certain things or you will never get work. If you are responsible, do your job and look great on camera, then you will get work no matter what your limits are. But seriously, if you are new and hot and want to shoot your first scene, come to me.
You know it at Eklecty-City we deal with cinema news. With which actor/actress would you like to spend an evening (laughs)?
Ember : Margot Robbie. I would eat her pussy and make her cum until she passes out.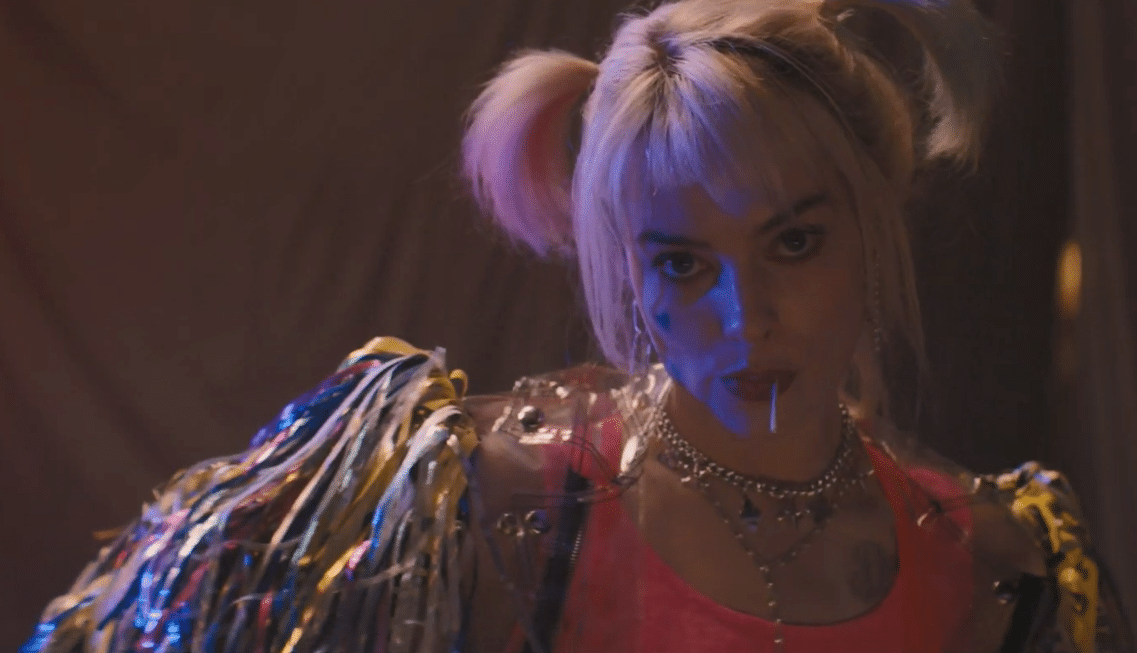 Use these few lines to send him or her a message (laughs).
Ember : Margot, I know that to you I am just a porn performer, but I'm also going to be a mainstream producer someday. Aside from making you feel good every single night that we're together, I will make sure you win the Oscar you deserved for 'I, Tonya!'.
So, what does it take to seduce you?
Ember : To not seduce me. (Laughs) Trust me, I get hit on a LOT and it's always the same thing. Guys think that if they ply me with compliments and try slick dialogue it's going to make me melt. Sorry. I've heard it all and I am immune.
I once said that the brilliance of James Bond's manner of seduction is to walk in a room, stand close to the hottest girl in it and then comment on what was happening in the room. This starts a conversation that has nothing to do about the woman at all, but ultimately leads to her being interested in him. If guys would do that, they would be more subtle and it would intrigue women a lot more.
If tomorrow your life is to be the subject of a biopic in the cinema, what would be the tagline of the movie's poster ?
Ember : When it Rains, It Snows.
Let's talk about your cultural tastes. What are your favorite movies?
Ember : I love movies with very complicated characters. For years, my favorite movie was Magnolia by Paul Thomas Anderson. Also, Gone Girl by David Fincher.
But just last week I saw the film adaptation of Shakespeare's Richard III, directed by Richard Loncraine and starring Ian McKellan. Talk about a revelation. I really wasn't into Shakespeare before that – sure, I liked Baz Lurhmann's Romeo + Juliet – but this version of R3 was so incredible. Really altered my perception of a lot of things.
Tell us about your news and current projects.
Ember : The biggest news is that I just wrapped on my very first porn feature as executive producer. It is a drama/comedy that has a lot of dialogue but also a few sex scenes as well. it stars Cherie DeVille, Chloe Cherry, Christiana Cinn, Jill Kassidy and Gina Valentina along with Jake Adams and Nathan Bronson.
We are in post production – as of this writing – on it and will be shopping it to production companies. I have scripts for a few more porn features and several mainstream ones as well that are ready to go, we're just looking for some extra money to get them done!
As far as adult stuff, I just shot for Pure Taboo recently and will be having some more IR and anal scenes coming out as well. I have also been sinking some money into high end clips for the clips sites like ManyVids, Clips4Sale and also on OnlyFans.
I'm also preparing to start work on my first-ever fan project, so if guys want to e-mail my assistant for more details on that, they might get a chance to work with me!
Where do you see yourself in 10 years? Still in front of the camera? To directing? Elsewhere?
Ember : If people still want to watch me fuck in ten years… (laughs). But yeah, if that's not what people want then I'll be behind the camera, producing, possibly directing. We'll see.
It's selfie time, you have to take your picture where you are now.
Ember : I'll do it right now.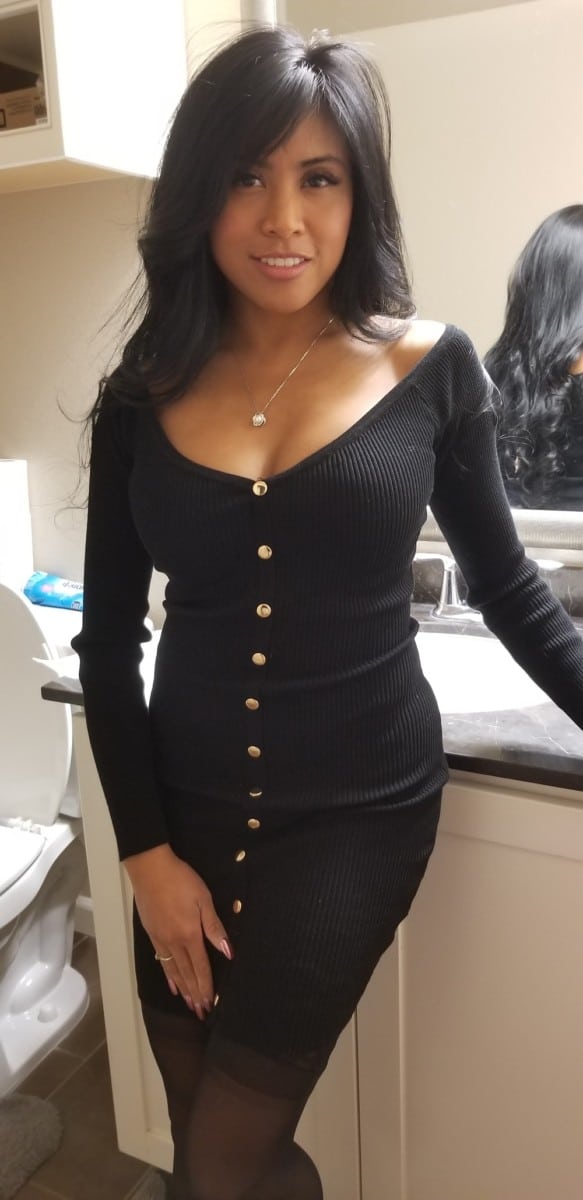 Finally, what question would you have liked us to ask you and what would you have answered?
Ember : No one ever asks me what my fetish is, or what my favorite thing about sex is. Honestly, the pop. I think I'm a little obsessed with watching men cum. It's the reason why I am usually doing facials in my scenes. I want a front row seat to watching a guy explode. I'm always asking guys on SextPanther to send me video clips of them cumming.
Thanks again Ember for playing along, see you soon.
Ember : Thank you for having me! And guys, follow me on Twitter or on Instagram.
To be informed of our next issues of Carré Rose and Pop Culture news, follow us on Twitter.
Interview by Thomas O. for Eklecty-City.fr, who thanks Ember Snow for giving us time. Thanks also to Tanya Tate.