From pop culture to porn culture, with Carré Rose, Eklecty-City's editorial team goes to meet X actresses who entrust us with their beginnings in the porn industry, the backstage of the profession, their current news and of course their cultural tastes. For this new issue, I went to meet actress Christiana Cinn.
Christiana Cinn was born in 1989 and grew up in San Diego, California, in a family of Italian origin. After graduating from high school and working in fashion design, she started working in 2013 as a camgirl, for which she was nominated for the AVN Awards in the Camgirl fan favourite category.
Although she started as a glamorous (she was a Playboy model) and erotic model, in 2015, her work as a camgirl was joined by that of a pornographic actress, after contacting a West Coast model agency. She started working in the industry at the age of 26. In January 2016, she was elected Pet of the Month by Penthouse magazine. Since then, she has received several nominations.
In addition to adult entertainment, Christiana appeared in the Sons of Anarchy series alongside such big names as Puma Swede and Jenna Jameson.
From Playboy to porn to Sons of Anarchy, meet Christiana Cinn.
The interview is also available in French here.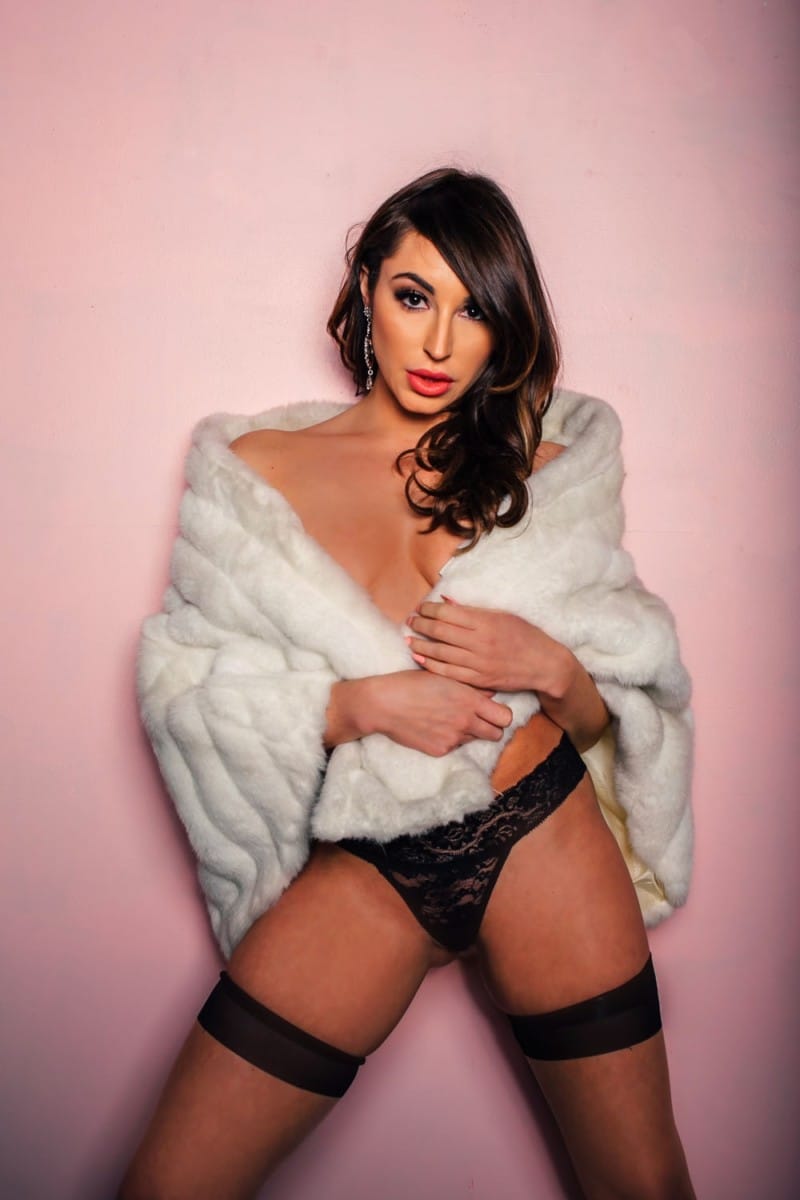 Hello Christiana, thank you for participating in 'Carré Rose' our naughty column. In case there are Internet users who don't know you, can you introduce yourself?
Christiana : Hello Thomas and all the readers of Eklecty-City, thank you for welcoming me here. So, I'm Christina, I'm 30 years old and I'm an x actress.
Before you became an x-actress, you started as a model for Playboy. Can you tell us more about it?
Christiana : I was so excited that they contacted me. It was an immediate yes!
At what age did you decide to enter the X industry and what is the origin of your pseudo ?
Christiana : I've always thought it would be an exciting and glamorous career choice! I decided to do it when I was 18 but didn't shoot my 1st scene until a few years later.
Tell us about your first set experience. How did it go?
Christiana : The first time is always memorable isn't it!? My first scene was with Eric Everhard. I saw him at a party in LA and approached him. I said 'Hi! Your Eric Everhard aren't you? OMG it's so nice to meet you. I can't wait to fuck you for my first scene next week.' He was shocked. (Laughs)
What is your best memory of shooting and the scene you're most proud of ?
Christiana : I'm so proud of all of my scenes. If I had to pick the feeling I like the best its the recognition and admiration of the viewers.
The fantasy you haven't realized yet?
Christiana : When I realize it I will let you know first. (Laughs)
During the shootings, do you really take pleasure or are you only in the simulation?
Christiana : Absolutely 1000%.
Which production studio do you think is the best today?
Christiana :Whoever gives me a job is the best. (Laughs)
Are you a big porn consumer?
Christiana : PornHub all day baby. And I have my own paid membership to just about every site that I have shot for.
What do you like and hate about porn?
Christiana : I like porn for so many reasons it's given me sexual pleasure money and millions of fans and admirers. What I hate about it would be cum in the eye. Yes that's the worst part of the job when it happens. (Laughs)
What are your limits for a scene?
Christiana : No bruises please and if you pull out any extensions you will be sent an invoice.
What advice would you give to future actresses who wish to embrace this career?
Christiana : Be social, go to all the industry events that you can and have fun. Have a drink but not too much. Be nice to everyone on set and at events. If you see someone on set you don't recognize introduce yourself. Having a great PR is key too!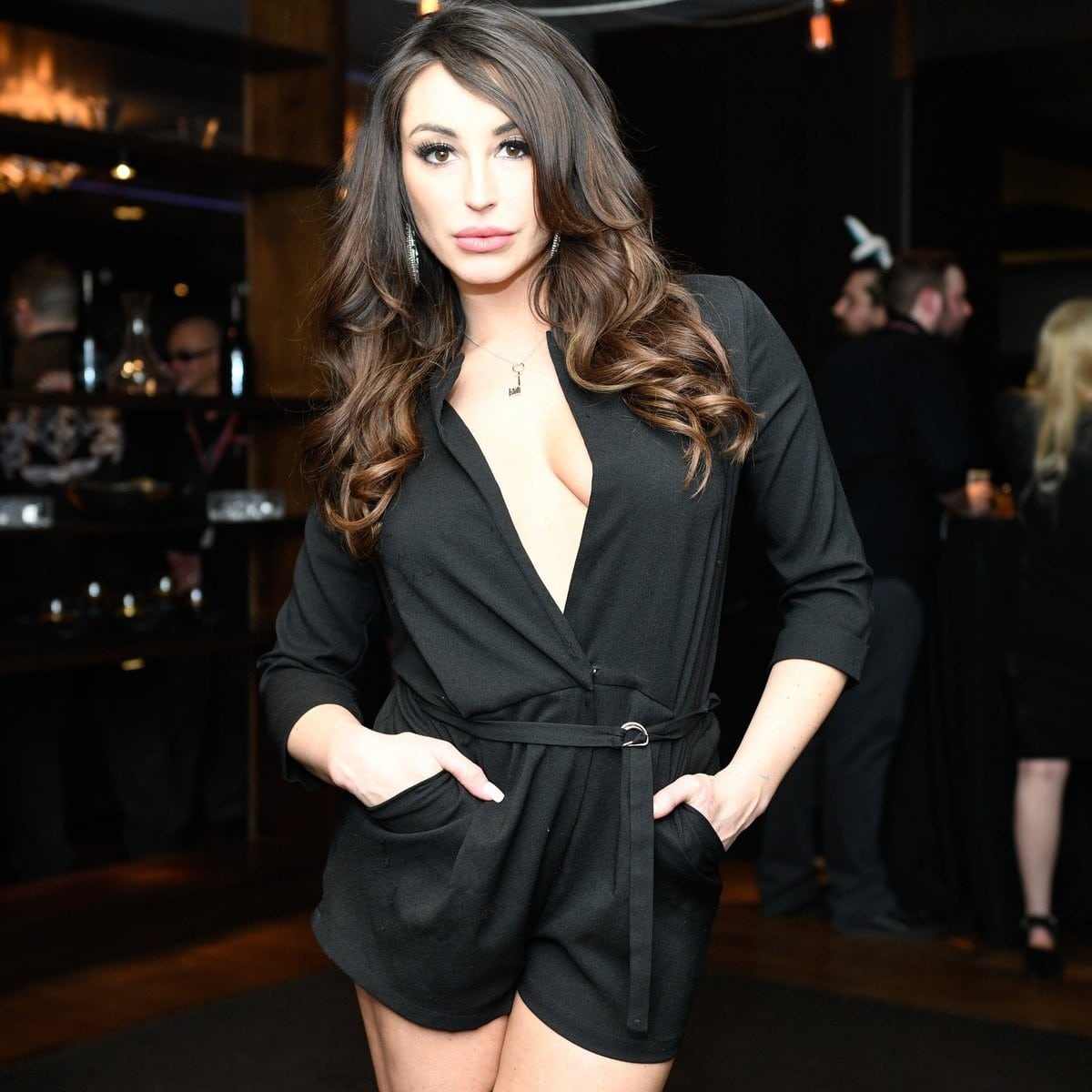 You know it at Eklecty-City we deal with cinema news. With which actor/actress would you like to spend an evening (laughs)?
Christiana : Aquaman, Jason Moma. (Laughs)
Use these few lines to send her a message (laughs).
Christiana : Your wife can come if she wants. (Laughs)
So, what does it take to seduce you?
Christiana : Take me somewhere cozy and intimate where we can have a glass of wine in the candlelight. I love being greeted with a thoughtful gift of jewelry, perfume or lingerie. Put your gift on me, touch me softly pull me close.
If tomorrow your life is to be the subject of a biopic in the cinema, what would be the tagline of the movie's poster ?
Christiana : The only way to Cinn City is by being strapped to a rocket. What would you give for the thrill of the ride?
Let's talk about your cultural tastes. What are your favorite movies?
Christiana : Beetlejuice is a good one Clueless is a classic. Amadeus has the best musical score. Showgirls ! Say what you want but Showgirls is an excellent movie! I was told by a friend 'You shouldn't trust anyone that has seen and doesn't like the movie Showgirls' I totally agree with them. (Laughs)
Besides, you made an appearance on the Sons of Anarchy series. Tell us about it! How was it? How was it?
Christiana : I have everyone at Ideal Image to thank for getting me that once in a lifetime gig. I am not with that agency anymore but we are all still friends. I was extremely excited, and a little nervous but felt at ease when I met Puma Swede and Jenna Jameson. I am a huge fan of the show and met the entire cast! I'd love to do a series like that again.
You are also part of a rock n roll band, Hot Sauce Holiday, whose songs you also co-write. Tell us more about it:
Christiana : I've always wanted to live my rockstar fantasy and the guys of Hot Sauce Holiday gave me support brotherly love to do that. We've played every dive bar, strip club, house party, parade and festival in Hollywood. Even Vice Is Nice followed by Special Olympics which was my all time favorite show.
The boys and their incredible manager Andy, finally let me take the band to a whole new level and put the show on a theatrical stage. A REAL live theater is were I always felt our show in all of its dramatic elements belonged. I had requested a home for us in the El Cid Theater on Sunset for the Rock Opera called 'Sugar on Top'. I had produced and we all performed into existence! We had back to back sold out shows. I always had faith that we would.
Endless rehearsals, which led into our conjoined natural high of all of us sharing the stage with each other and having an entire audience blown away made me feel so proud. I've never felt more accomplished with my brothers and I will always have a novel full of crazy fond memories of each member of the band. Hot Sauce Holiday has since broken up. I send them all support and love and a prairie fire, a drink made of a shot of tequila and hot sauce.
Tell us about your news and current projects.
Christiana : Please follow my @CinnStyle Instagram! I am partnering with so many amazing companies and influencers. Follow @CinnStyle to find out what dating apps I'm on, what Hotels are the best and what to do in just about every city in the country. You'll be informed and learn something impressive to level up your life.
Where do you see yourself in 10 years? Still in front of the camera? To directing? Elsewhere?
Christiana : In 10 years I want to be a trophy wife. I see myself transitioning to showcasing more of my travel/ lifestyle influencer brand having a popular YouTube channel producing high quality content. I will still do sexy photoshoots to promote my projects and philanthropic activities but as a trophy wife I will want my new tits to be for my husband to enjoy.
It's selfie time, you have to take your picture where you are now.
Christiana : The airport! It's my 2nd home. (Laughs)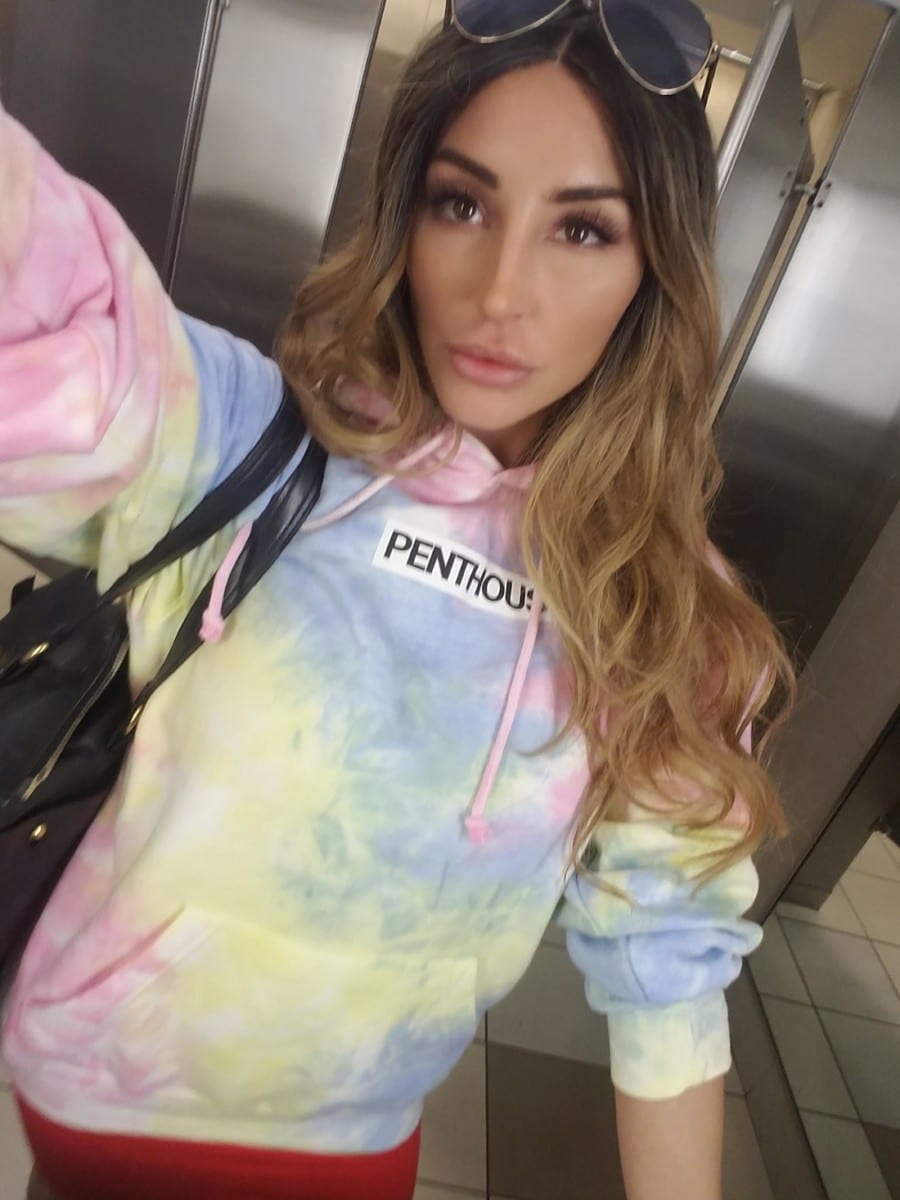 Finally, what question would you have liked us to ask you and what would you have answered?
Christiana : Whats my lifestyle/influencer brand CINNSTYLE doing? Right now I'm promoting this brand new dating app called 'Datingly' available on iTunes and Googleplay. You have got to try it. It's the only Anti-Catfishing app. And yes I really am on it! Anyone that wants to find me give the app a try!
Thanks again Christiana for playing along, see you soon.
Christiana : Thank you SO much for having me play! If your audience would like to see more of me they can follow me on Twitter, Instagram and my PornHub (OhlalaChristiana). (Laughs)
To be informed of our next issues of Carré Rose and Pop Culture news, follow us on Twitter.
Interview by Thomas O. for Eklecty-City.fr, who thanks Christiana Cinn for giving us time. Thanks also to Tanya Tate.